High school baseball in my area will be starting within the next two weeks.  Individual players and teams have been working out to prepare but in the Northeast those workouts have overwhelmingly been indoors.  The problem with that is that no matter how you work out indoors, it just isn't the same as being outdoors.  As a player, you notice this during the first week of outdoor workouts when muscles you forgot existed feel sore.  Running outside on grass that is not perfectly flat and hard like gym floors forces your stabilizer muscles to work much harder, thus the new pain.  After a couple days, the body adjusts and all is well.  The arm, however, can be different.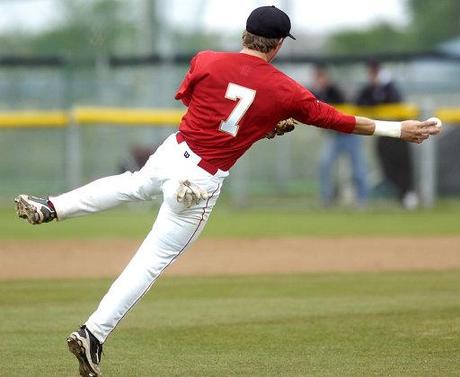 How many throws like this have you made this off-season?
During the off-season, most of the throwing that takes place is overhand.  Long-toss regimens force players to throw over the top to promote arm strength and velocity.  This is fine if you are a pitcher or an outfielder because most of your throws when you start playing games are going to be at the same arm angles you trained in the off-season.  Infielders, on the other hand, use every arm angle during the course of games.  Some are over the top on relay throws and long throws from the hole.  Many are 3/4 or even side arm.  When charging slow rollers, infielders may even throw submarine style with the ball and throwing hand close to the ground.  The point I'm making is that too often infielders don't throw from these arm angles until they are outside.
Soreness in your feet, ankles, and knees usually go away after a few days.  Arm injuries sometimes persist throughout the entire season.
My tip for infielders is to start playing catch and doing some drill work using all the arm angles you will need to use when you go outside.  Doing so will lessen the stress the arm will face when you inevitably step on the field. 
Next post:  It's time to train for speed!