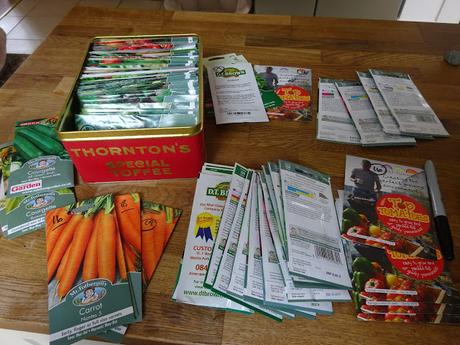 It's that deliciously hand rubbing together, gleeful time of year when I get all my seeds out and start to make the plans of what we will grow, harvest and eat in the months ahead.  
The packets of free seeds gathered together each month from the copies of my subscription magazine have been mixed with all the seed packets leftover from last year and from years previous.  Some packets go as far back as 2011 and are the ones inherited from Mum and Dad's seed collection, I know which ones these are as they have Mum and Dad's handwriting on them.  Bearing little snippets of descriptions and information.  
It links me with my past, anchors me in the present and gives me hope for the future.  There's a lot of hope in a tiny seed.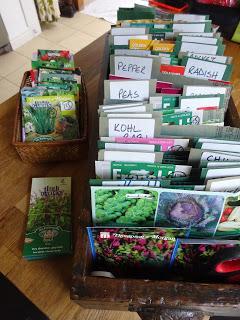 Some packs that didn't germinate last year and were seriously old have been thrown away, the small selection in the basket have picked out for planting next week, a smaller handful of things I have no intention of growing have been popped into the car boot sale box and my great big wooden drawer is on standby for the coming weeks.
Spring is on it's way .... I can feel it in the air.  It's time to throw off the blanket of Winter, time to dip my fingers in the compost and set to, we have earth to tend, seeds to sow, food to grow  :-)
Sue xx