Perhaps it was the exotic photo shoot plastered on the pages of Conde Naste Traveler magazine, or the tantalizingly juicy jerk tilapia and baked plantains at local restaurant, Ja' Grill, or possibly the conversation among my engaged friends about the best exotic place to go for their honeymoon. Whatever it was that sparked it, I have not been able to get Jamaica out of my head.
An island paradise that is a true jewel of the Caribbean, Jamaica is not only known for its sand-swept beaches, lush jungles and balmy weather, but also for its rich culture and numerous ties to the art and music world. Ian Fleming, the James Bond writer, truly fell in love with Jamaica back in the 50s and 60s, capturing the islands character in his novels, most of which he wrote while staying there. He even bought land to build his own private oasis there, called GoldenEye. Singer and song writer Bob Marley called Jamaica home before bringing his iconic voice and laid-back melody to the states in the 70s. He became a symbol for the cool calmness and peace associated with the island. Today artists, writers, singers, actors and regular Joes like you and me, visit Jamaica to find out just what makes it so bashy. (local lingo I'll get into later.)
To really appreciate the country, let me provide a little background. The first inhabitants of the island were the Tainos, Arawak-speaking people believed to have come from somewhere in South America. These people were there to greet Christopher Columbus when he first arrived in Jamaica, which the Tainos referred to as "Xaymaca." The Spanish landing marked the beginning of 500 years of European occupation. When the British took over the island from the Spanish, their slaves were let lose and became known as Maroons who continually fought the new occupants. In fact, they still exist on the island today. The island became a major producer of sugar, and the large plantations thrived for many years. However, once slaves were emancipated in 1838, the sugar production suffered, and the island turned to other exports like bananas and coffee for income. Jamaica experienced much political strife as the crown colony system was implemented and then declined, causing civil unrest, ushering in the trade union movement. Eventually, Jamaica claimed independence from Britain and established its own diverse nation.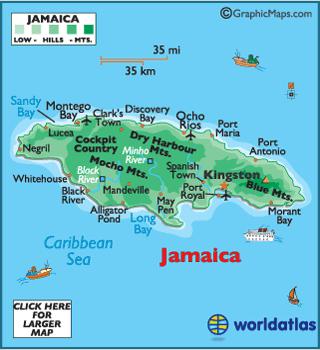 Jamaica is the largest English speaking island in the Caribbean, running 156 miles long and between 22 and 51 miles in width. It is located 90 miles south of Cuba and 600 miles south of Miami. It is divided into three counties--Cornwall, Middlesex and Surrey--which are further divided into 14 parishes. Kingston is the smallest parish, but is also the country's capital. The natural landscape is relatively mountainous, with much of the land rising above 1,000 feet. There are over 120 rivers that flow through the island, as well as numerous mineral baths that have been tapped by resorts and spas for their therapeutic benefits.
The great thing about Jamaica is that there is something for every kind of traveler, from crazy adventure trips and off-the-beaten-path options to relaxing beach stays and romantic hideaways. History buffs will appreciate the museums and monuments scattered throughout the cities, and foodies can indulge on delectable local cuisine.
Most trips to Jamaica tend to start in the capital of Kingston, a robust, thriving city full of culture, history and fun. With its historical and cultural sites, exciting social scenes, world-class dining spots and recreational activities, it is almost impossible to know where to start. I suggest beginning in downtown Kingston, where you will most certainly stumble upon Parade, the very center of the city. Parade is basically a town square that has become well known as a shopping mecca. The Coronation Market is the biggest shopping area on the island and probably the most chaotic, but well worth fighting the crowds. Flanked on the other sides of Parade are the Ward Theater, the most well-known performing arts venue in Jamaica; Coke Methodist Church, the first Methodist chapel on the island; and the Kingston Parish Church, a major landmark famous for its intricate graveyard and bell tower.
Kingston has numerous other attractions to visit, I could not possibly name them all. But I do have a quick list of suggestions: Linstead is a small inland area with bustling fresh produce markets; Morant Bay is one of the most historic locales in Jamaica due to the Moran Bayt Rebellion of 1865; Spanish Town acted as the former capital of Jamaica and showcases some of the most authentic 18th- and 19th-century architecture; and Devon House Heritage Site, which houses thousands of antiques, as well as some of the best places to get local fare.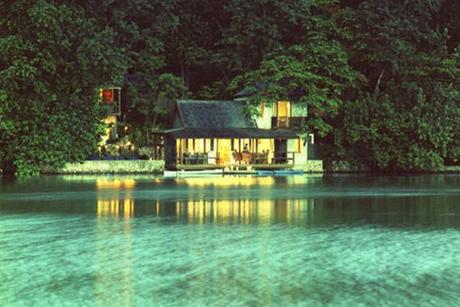 GoldenEye. LuxuryTravelMagazine.com

Across the island in Montego Bay is a whole other world of Jamaica. Granted, you will still find historic buildings and bustling city centers. But Montego Bay brings its own specialties to the table. In the best sense, Montego Bay is a resort town, so there is a major emphasis put on its white sand beaches and clear blue water. But away from the hotels and touristy areas, you can find some true gems. The Rose Hall Great House is the old home of Jamaica's white witch, Annie Palmer, who practiced voodoo and supposedly killed her three husbands through magical methods. You can tour the old house, check out the dungeon and even see where her ex-husbands are buried. In the heart of the city is Sam Sharpe Square, named for the Baptist Deacon who fought against the confines of slavery. The square is a tribute to his mission with statues depicting slaves listening to his inspirational words.
Just outside Montego Bay is Croydan in the Mountains, a picturesque plantation that produces coffee beans and pineapple. You can take part in a three-hour tour of the facility, where you can get a look at how the products are cultivated, and take in the amazing views of the sloping mountains. After the tour, you can sample the fresh fruit and rich coffee from the plantation.
Some more secluded areas of the islands can be found deep in the Blue Mountains, or along less developed stretches of the coast, for instance around Negril or Oracabessa. If you are a fan of James Bond, you have to visit GoldenEye on the island's north coast. Ian Fleming's old house is still there, though now it has been transformed into a hotel, which features the original three-bedroom house, and nine new beach cottages and two pools. Strawberry Hill is an old coffee plantation tucked away in the Blue Mountains above Kingston. It is also now a hotel, and provides a nice escape from the hot beach resorts that populate the major cities.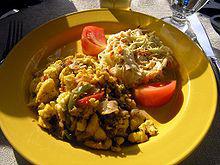 Ackee and Saltfish. Wikipedia.
As far as food goes, Jamaica has a few staples that you will certainly need to try if you visit. The national dish is ackee and saltfish, a meal of salt cod boiled with ackee fruit, onions, peppers, tomatoes and other spices. It is usually served at breakfast along side breadfruit, dumpling, hard dough bread, fried plantains or boiled green bananas. For lunch, you must try the jerk chicken. As for what variety or level of spice you try, that is up to you. If you want to try more than one, there is a jerk chicken trail that runs all around the island where you can taste as many types as your heart desires.
Obviously, I would love to keep writing about this incredible island, but there is just way too much to cover and I have neither the room nor the time to talk about it all. Clearly, you will just have to go discover Jamaica for yourself. If you cannot manage to scrounge up the vacation time or the money to go, why not get a taste at a local restaurant. There are a number of places that offer the island's famous dishes. If you cannot seem to find one, I would say your best bet is to sip some Jamaican Rum or a Red Stripe, sit back and relax, mon.