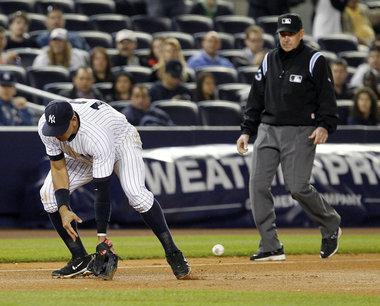 Oh, how I do enjoy the smell of Yankee schadenfreude in the morning.
The Red Sox hit the .500 mark for the first time in 2011 with a sweep of New York in the Bronx last night.
Jon Lester was rocked for 4 runs in the first two innings, as the Sox fell behind, 4-1. It looked like a long night was in store (and it was a 3:40 game), but Lester settled down and pitched scoreless baseball until he left in the sixth.
The Sox tagged Freddy Garcia for home runs from Kevin Youkilis and David Ortiz. Jarrod Saltalamacchia added the final run in the 8th on another short-porch homer off the vastly overrated Joba Chamberlain.
Jorge Posada pinch-hit in the 8th (and walked) and received an ovation from the Yankee fans who hadn't abandoned the place by then. On radio, Suzyn Waldman had another classic moment, blubbering when Posada came to the plate. Here is part of it from the Boomer & Carton Show on WFAN this morning. (It's a funny 10 minute clip, and the former BLOHARD pops up around the 5 minute mark.)
The Sox scored their sixth run on an error by Alex Rodriguez (pictured) in the 7th. (Does Slappy look like an old man more and more these days or what?) Daniel Bard and Jonathan Papelbon shut down New York in the final two innings to cap the sweep, the first in the Bronx by the Red Sox since 2004. They are 18-10 (.643) since that disastrous 2-10 start to 2011.
The Sox now trail the Yankees by one game and the Rays by three games in the ever-tightening AL East. They play the Orioles tonight at Fenway should the weather hold.
And should the game go on, it will be the welcome return of our Red Sox Nation President, Jerry Remy.