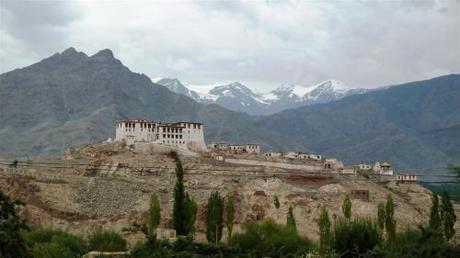 Stakna Monastry 'stacked' up on a rocky outcrop, overlooking the Indus plains. Until this point, there was no real evidence of the devastation that lay ahead except for the sinisterly swollen Indus.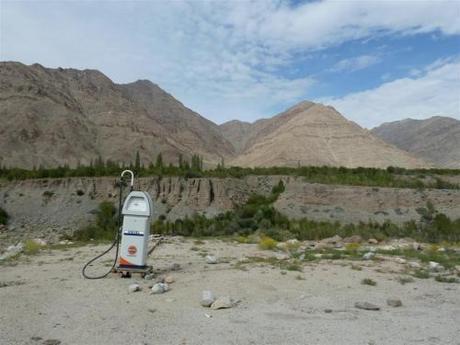 The first petrol station we had seen since Keylong some 6 days behind us.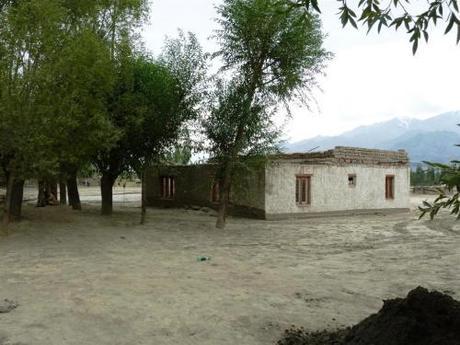 Shey village provided the first evidence that things were not as it had seemed.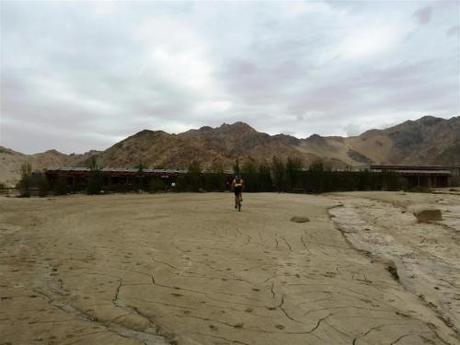 At around midnight on the 6th August while everyone slept peacefully, a cloudburst occurred over the Indus valley lasting a mere 17minutes but causing devastation that had been unheard of in living history before. In that incredibly short space of time the rain fell in solid sheets, as one man had described. As people slept, the dry dust in the valleys was turned to rivers of mud that swept toward the Indus catchment sweeping with it what ever was in its way. Shey village was relatively lucky suffering no deaths, however damage was extensive. For those who survived their houses and fields were in ruin.(Ladakhi people grow everything they need in 4mths of the year to keep them going for the remaining 8mths, having your fields destroyed is almost as good as having been carried away in the torrent).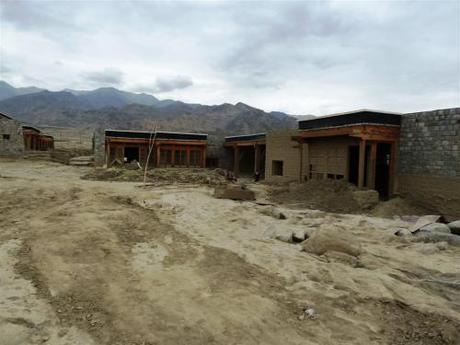 A year before, I had visited the school 'Druk Padma' Lotus. A school that had been built by Arup Architects using all traditional Ladakhi architecture and enhancing the well thought out elements making it a state of the art school in terms of environmental design. It was shocking to see what had happened but so fortunate the mudslide had by-passed the dormitories where many children had slept undisturbed.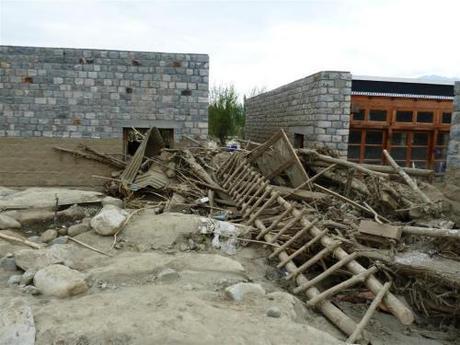 The sheer force of the mudslides was evident as was the depth, as boulders and debris were stacked against any barrier and the mud mark was evident on the walls of all the school buildings. Fortunately from a structural point of view the buildings were more or less okay as they had been build with earthquake reinforcing elements.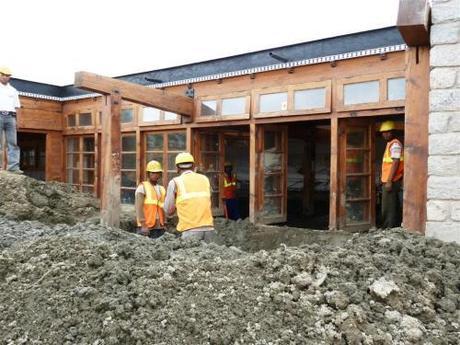 Relief workers had already been working for more than 10 days before we arrived. Making progress, but if only they had a few wheel barrows! Not one in sight.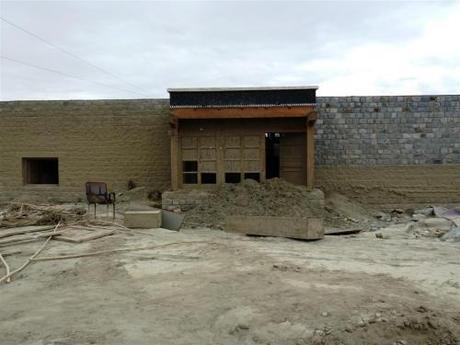 More of the mud mess, it was hard to believe there had been so much water around as it had completely dried out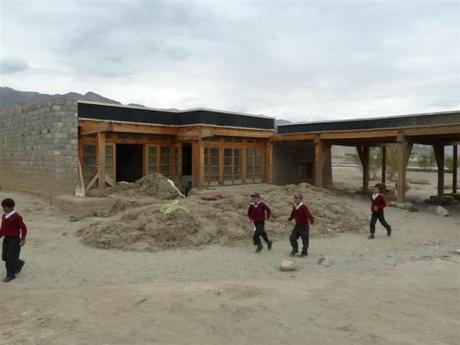 Children were accomodated in makeshift classroom-tents, and seemed generally unperturbed. I guess one has to see it from their eyes - what would we have felt if our school had been almost destroyed? Quite nice actually, no school! The beauty of being a child!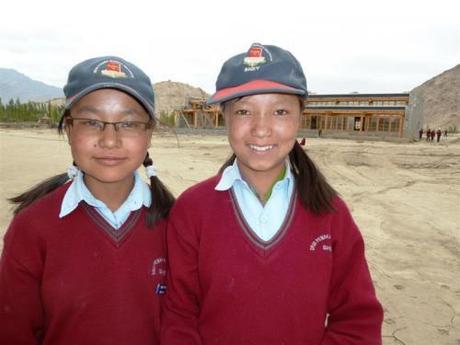 Last year, while in Shey we met Julayne from the US who worked as a voluntary teacher for 10mths teaching photo literacy at Druk Lotus school. A fascinating and inspirational project see www.photo-literacy.org. This year as we surveyed the devastation, feeling quite helpless I chatted to Tsering Tsomo and Diskit Dolpa and asked them if they had a teacher called Julayne. They were so excited when I spoke of her, I promised to send this photo on to Julayne as a good memory. Meanwhile in the US Julayne was giving talks onher photo literacy project to raise funds to help the needy after the floods. When she saw this picture she was amazed at the coicidence that I had taken a photo of Tsering whose photo had been a firm favourite at her exhibitions!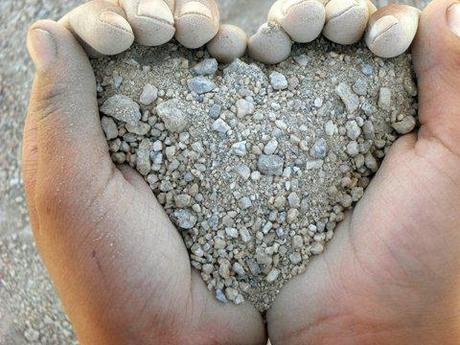 The favourite image by Tsering Tsomo - "Love is holding someone's heart in your hands."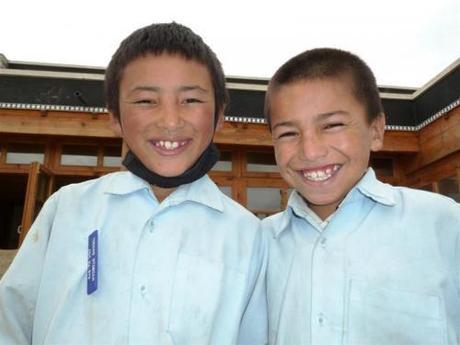 Some not-too-worried boys!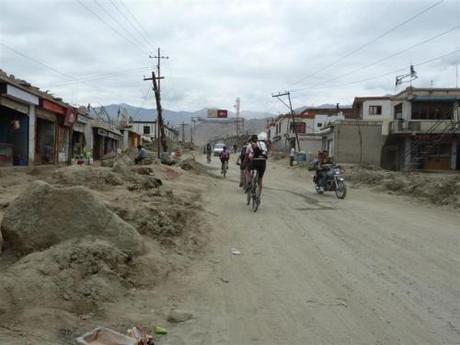 From Shey we continued to Leh, some 20km away passing through Choglomsar, a Tibetan colony about 7km outside of the town and one of the worst hit areas of all. Some 200 people died in and around Choglomsar.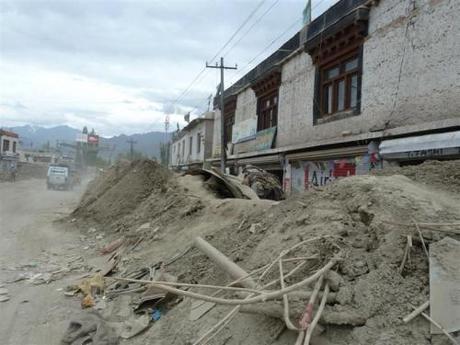 The mud had swept across the main street carrying boulders, small cars and anything in its way.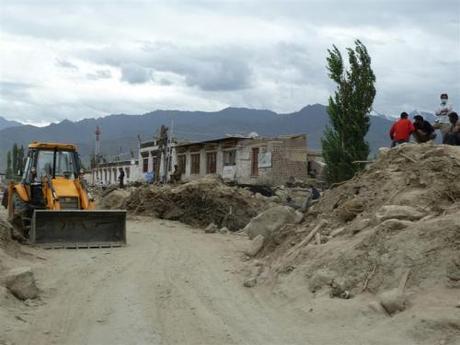 In places the mud had been piled to 3m high and had taken out all the shops along the main street.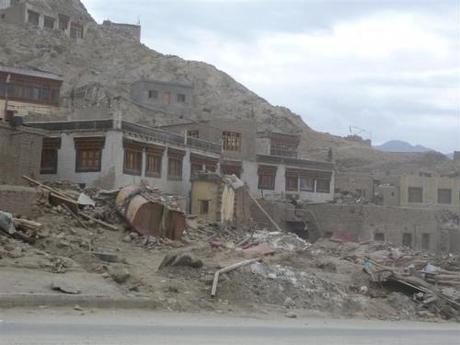 Continuing into Leh town, the main bus park had been swept away and many homes and buildings had collapsed. Interestingly those that had collapsed had been built in concrete. Ie traditional architecture clearly proved superior.