Thanks to the Internet and social media, we can't have any kind of privacy what so ever these days. Liking a Facebook post or even posting to Twitter could actually  ruin your life or even worse. And, here's an example for that.
Recently a huge controversy began over a tweet that was posted by a developer evangelist named Adria Richard, who posted a photo while she was attending a PyCon conference. It was actually a photo of two men who claimed to have made inappropriate sexist "jokes about forking repo's in a sexual way and "big" dongles". Apparently, this made Richard uncomfortable. But, instead of confronting these two guys, she's decided to publicly humiliate them by posting this tweet.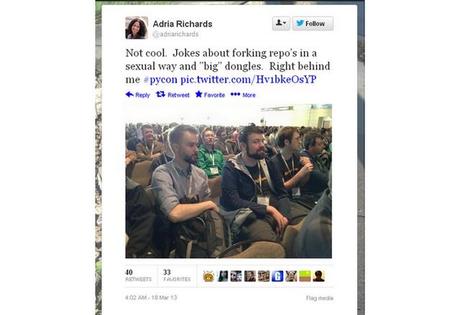 Later on these two guys have apologized for their poor behavior when someone from the conference team confronted them after seeing this tweet. Although, the story didn't stop there. Outcome of that tweet was not good at all. Story went viral around the web and started debates which got one of those two guy's fired from his job.
This angered some people who attacked Richards over Twitter and even launched a DDoS attack upon her employer, SendGrid's website. This made the company realize the situation and they have decided to fire Adria Richards. It's not the end. Situation is still at a boiling heat condition. We may be seeing few lawsuits in the future.
Making inappropriate jokes at a public conference is not acceptable. Although, I think it would've been better if Richards focused more on the conference instead of eavesdropping on these two guys' conversation and publicly humiliating them. Things would've gone much smoother if she had the guts to confront these guys by herself.
[Via: A Dongle Joke That Spiraled Way Out Of Control Tech Crunch]
(All the images, trademarks, logo's shown on this post are the property of their respective owners)
Roshan Jerad Perera