Two weeks ago I visited friends near the Lake of Constance. They had organised a seminar with Anton Styger on working with a biotensor, a kind of working with a pendulum, but more balanced. I have been using a biotensor from time to time as a means to amplify the inner sense and for testing the digestibility of food. My wife is more sophisticated in this work; it is of a good help, if you use it with discrimination and in a non-manipulative way. It is a way of interacting with the subtle energies emanating from objects, be they physical, emotional or mental "objects".
There were about 35 persons at the seminar. We had brought different foodstuff or remedies for testing. Anton explained the differences between a physical or mental use of the biotensor. At first we learned how to calibrate the biotensor and how to prepare oneself. There are quite some things for which you should not use this instrument in order not to get caught in the cobweb of illusion. Best you start by aligning to your soul or the divine through a prayer and work with an attitude of observation.
It was an intense instruction with the help of a script. First we tested the foodstuff – the results were quite definite and with a few surprises for me. Then we learned how to text minerals and vitamins, whether there were shortages, and a lot of different health factors. Then we went into more subtle topics of energetic encumbrances.
In the afternoon we went outside to test zones of geopathic stress, also with the help of dowsing. I'm not at all a specialist in this, but the results were quite obvious. It was interesting to observe that others tested the same way. The seminar gave me a more differentiated way of working with these energies.
But this was just the one half of my journey, the other was the visit of my friends, in whose house Anton also lived. We had a beautiful time together, with deep talks and an evening walk along the Lake of Constance.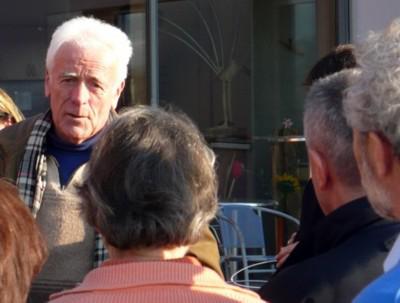 Anton explaining the use of the biotensor for outside use