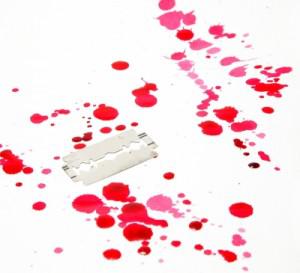 Credit
The razor blades cold against my naked skin, the immediate release I feel as I push the blade deep against my veins. The satisfaction I feel as the warm blood oozes out. I want to take my life. My heads a mess my life is empty. I have no one to talk no one to tell my dark thoughts.
I repeat the above over and over again each time praying I won't wake up. Hoping that the blood flow will be unstoppable. The pain I feel inside is destroying me.
I start to use other objects the razor not having the desired effect. I need to go I need to leave this evil world.
I begin using a smaller kitchen knife cutting in the direction that my veins flow. I can't handle this anymore I reach for the painkillers taking them one at a time hoping I won't be sick I don't want to risk failure this time.
I wake this time in a cold white room I'm in hospital I've had my stomach pumped and had been put into an induced coma. I had missed christmas and new year. My parents sat at my bedside their cheeks stained with tears. The guilt starts to eat away. My arms scared the deep red marks a reminder of why I had wanted to die. I lay there praying this was all a dream that I had been taken to a better place.
My parents simply ask 'why'. How could I tell them that their friend had been raping me for the last 7 years. It had started at the age of 5.
I shrugged I couldn't destroy them the monster already had control over my life.
To this day my parents do not know why I tried to kill myself. I had counseling after my last attempt to harm myself that was 5 years ago.
I am now a stronger person and expecting my first child in the summer.
I believe this will be a secret I shall take to my grave.