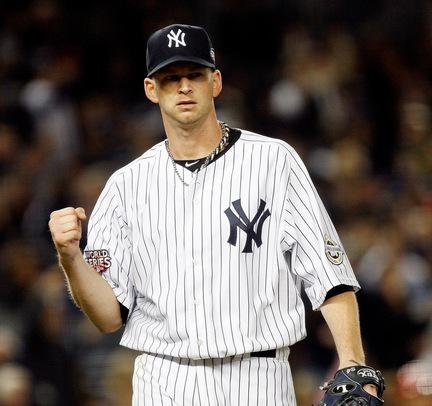 After 165 hard-fought games, it all comes down to AJ Burnett.
Those, my friends, are words that should never be written. And they are words that did not have to be written. Nevertheless, it scares the hell out of me. Before Game 3, I was in the camp that thought we should save CC for today, rather than waste our ace and our best chance of winning on Justin Verlander. To match Verlander, CC (or, for that matter, any pitcher) had no room for error – and last night, after a rough first inning, Verlander was absolutely dominant. His fastball kept picking up speed, his breaking ball was dropping out of the zone, and our hitters looked totally clueless at times. In particular, Robinson Cano looks like he is back to his old, undisciplined ways; he was swinging at everything, in or out of the strike zone. Mark Teixeira, Alex Rodriguez, and Nick Swisher have been practically useless, at least offensively speaking.
In spite of this, it is not the players who pissed me off last night, but Joe Girardi - both with his decision to start CC, but more so with his decision to allow CC to start the sixth inning. He was already gassed in the fifth inning, if not earlier, and he did not have his sharp control to begin with; Girardi should have recognized this and gone to the bullpen. I mean, I get it. He trusts the big guy, I normally do, too. But last night, CC just did not have it. Also, by "bullpen," I do not mean that Girardi should have pitched Rafael Fucking Soriano for more than one inning. Soriano has been an epic $9 million fail all season long. I do not know how you justify giving him the ball for five outs now. Where was David Robertson? Where was Phil Hughes? Where was anyone except Rafael Soriano? It left me disgusted that he lost the game.
Sigh. It doesn't even matter now. The Yankees are down 2-1 in the ALDS.  And tonight, with the whole season on the line, it all comes down to AJ Burnett. God help us.