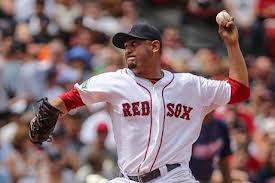 A perfectly awful weekend against the lowly Minnesota Twins ended on a high note, despite the Red Sox determination to give another one away.
Franklin Morales pitched six innings and allowed just one earned run in his return to the rotation. Adrian Gonzalez and Carl Crawford continued their hot streaks. Gonzalez hit a two-run shot into the Monster seats and Crawford had three hits, scored two runs and stole a base.
It was 6-1 in the ninth, and Vicente Padilla, who has struggled as of late, had nothing. He gave up a walk and two home runs, and it was 6-4. Bobby Valentine had to bring in Alfredo Aceves, which something he would rather have not done.
But Aceves shrugged off Saturday night's debacle, and got Minnesota 1-2-3 on nine pitches to wrap up the Red Sox win. It ended the four-game losing streak.
4 1/2 games back in the Wild Card race with five teams in front of them. Now, the Texas Rangers come to town.
And the word on David Ortiz' Achilles injury is he's still in pain.