The alarm went off at four-thirty this morning, and I did not bolt right up in my bed. No, in fact, it took me a good five minutes of self-loathing and stubborn debating in my head before I whipped the covers off and peeled myself out of bed. I quickly changed, splashed my face with water, came out to my living room and switched on NBC to watch the event that so demanded my early rising: the Royal Wedding.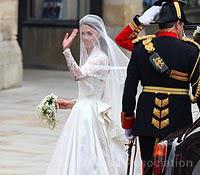 Credit: Royalwedding.com
4:45 am: I caught the first few royal family members driving up to Westminster Abbey, including Queen Elizabeth as she stepped out of her car in a classic suit and a hat--because she's never without one. And then I saw Kate Middleton sneak into her car, and caught a glimpse of the top half of her dress, a long sleeve lace overlay with the sweetheart neckline. Her ivory silk tulle veil draped across her face with perfection, and her sparkling tiara was something to be envied by every bride-to-be, or young girl watching at home. As she stepped out of the queen's Rolls-Royce Phantom VI (yeah, I know cars), the full extent of her gown was revealed, and it did not disappoint. The dress, designed by Alexander McQueen creative director Sarah Burton, featured an ivory satin bodice and a low cut back, with lace to cover her bare skin. Its shape was extremely traditional, with a nine foot train, which was carried by her sister and maid of honor, Pippa. (I won't go into the details of her dress, but it was spectacular, too!)
As Kate clasped onto the arm of her father, Michael Middleton, I sensed that the nerves started to set in just a little. At one point, I swear I saw her stumble slightly, though that could have been the shoes she was wearing, or a bump in the carpet leading up to the doors of the church, but I'd  like to think that it was a moment of weakness in an otherwise flawless ceremony.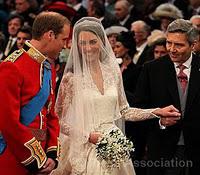 Credit: Royalwedding.com
Kate walked down the aisle to the tune of
The Introit
, as well as the anthem
I Was Glad,
written by Sir Charles Hubert Hastings Parry (wow that's a lot of names). It took Kate three and a half minutes to walk down the aisle to William. (I didn't actually time it myself, I just read that in an article.) The couple smiled brightly at one another as they stood hand in hand listening to the priest give his opening prayer. They wasted no time in getting to the vows and the ring exchange. And as the couple committed their lives to one another, and consented to be husband and wife, I could hear cheers from the crowds waiting outside. Both Kate and William held back tears as they spoke those sentimental words, and I have a feeling thousands of others cried tears of joy for them.
After the vows, there was no kiss--that was saved for later--and the service continued. Catherine (which is what she is requesting people call her now) sat next to William off to the side of the altar, as her brother, James, stepped up to give a reading from Romans 12:
I APPEAL to you, brothers and sisters, by the mercies of God, to present your bodies as a living sacrifice, holy and acceptable to God, which is your spiritual worship. Do not be conformed to this world, but be transformed by the renewing of your minds, so that you may discern what is the will of God - what is good and acceptable and perfect. Let love be genuine; hate what is evil, hold fast to what is good; love one another with mutual affection; outdo one another in showing honor. Do not lag in zeal, be ardent in spirit, serve the Lord. Rejoice in hope, be patient in suffering, persevere in prayer. Contribute to the needs of the saints; extend hospitality to strangers. Bless those who persecute you; bless and do not curse them. Rejoice with those who rejoice, weep with those who weep. Live in harmony with one another; do not be haughty, but associate with the lowly; do not claim to be wiser than you are. Do not repay anyone evil for evil, but take thought for what is noble in the sight of all. If it is possible, so far as it depends on you, live peaceably with all.

I was not planning to include the whole reading, but I thought it was so fitting for the occassion--which is obviously why they chose it--and it also spoke to me and how I should act in my own life. Anyway, I digress...
At this point, it was a little after five thirty in the morning and I was starting to get tired again after my initial excitement began to wear off. But then the Right Reverend and the Right Honorable Dr Richard Chartres stood up to give his address and he started with "Be who God meant you to be and you will set the world on fire." Those immortal words were spoken by Saint Catherine of Siena, whose memory is honored on this day, too. It was such a powerful way to begin, and he had me hooked from that moment on. This man is a scholar, a well-spoken, intelligent and insightful man, and I personally would love for him to give me an address as elegantly delivered as this one. I regret that I had my hands full with other tasks and was unable to jot down everything he said, but I was able to catch a few things:
In a sense every wedding is a royal wedding with the bride and the groom as king and queen of creation, making a new life together so that life can flow through them into the future.A spiritual life grows as love finds its center beyond ourselves. Faithful and committed relationships offer a door into the mystery of spiritual life in which we discover this; the more we give of self, the richer we become in soul; the more we go beyond ourselves in love, the more we become our true selves and our spiritual beauty is more fully revealed. In marriage we are seeking to bring one another into fuller life.Marriage should transform, as husband and wife make one another their work of art. It is possible to transform as long as we do not harbor ambitions to reform our partner. There must be no coercion if the Spirit is to flow; each must give the other space and freedom.We are all incomplete: we all need the love which is secure, rather than oppressive, we need mutual forgiveness, to thrive.
When the service was over, William and Catherine made their way back down the aisle and stood in the entryway of the church to greet the world as a newly wedded couple. Of course, now they will not just be known as William and Catherine--though I plan to call them that. They were given a slew of new titles, the first being the Duke and Duchess of Cambridge, with dukedom as the highest rank in the British peerage. They will also be called Earl and Countess of Strathearn and Baron and Baroness Carrickfergus--the latter makes me giggle just a little.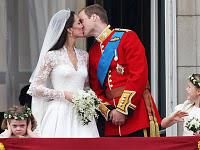 The Kiss! Credit: ABC News
The couple climbed into an old horse-drawn carriage, and rode off back down the same route they took to get to the church. The whole family followed behind as they made their way to Buckingham Palace. Between their arrival there and their appearance on the balcony out front, I had to tear myself away from the television quickly to get ready for work--because some of us still have to go to the office. Luckily, I made it out of the shower and into the living room in time to witness William and Catherine's first kiss. It was a bit lackluster, to say the least, lasting a mere two seconds. I actually missed it, because I was looking down at the delicious Ann Sather's cinnamon roll that I ate for the occasion. Thank God for DVR. Though I was disappointed in the kiss, they made up for it by giving the crowd a second, much longer smooch, and then I was satisfied.
I am not sure what the rest of the day holds for the royal couple, but sources have said they will have an official reception with the Queen and her subjects in the afternoon, followed by their own personal ceremony this evening. The event tonight will be a smaller, more intimate affair, with about 300 guests and all the traditional wedding happenings, including the best man's speech and the first dance.
While I was forced to get up very early this morning, it was nice to get lost in a fairytale world for a few hours. It was like a dream watching Catherine shine in her gorgeous wedding gown as she declared her love for William for all the world to see. This is truly a special event, and one I will not soon forget.