As many of you know, tomorrow is the day of the royal wedding, when Prince William will marry Kate Middleton in front of 2,000 guests and nearly one billion viewers around the world. Kate will ride down a long parade route, waving at spectators that have been camping out for days just to get a glimpse of her white-gloved hand. She will then step out in front of Westminster Abbey where thousands of paparrazi will flash pictures of the gorgeous bride in her flowing wedding gown designed by--well, we don't know yet. Once she walks through the doors, she will float down the aisle towards her prince, who she will promise to love and cherish until death parts them.
Needless to say, Kate's under a lot of pressure.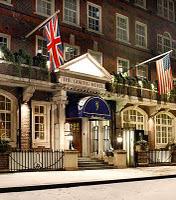 So how do you prepare for such a large spectacle as this? Stay in a fabulous hotel, of course!
Kate will be spending her last night as a single lady in the five-star luxury Goring Hotel, located just around the corner from Buckingham Palace. The hotel opened in 1910 and is still owned by the family of the founder. It was credited as one of the first hotels in the world to offer a private bathroom for each room. And since it is so close to the palace, it has had the privilege of hosting a number of royal celebrities, including Queen Mary and Queen Mother Elizabeth, who both enjoyed tea at the Goring.
Kate and her family have taken over the hotel, with the recently redecorated five-room suite overlooking the garden reserved specifically for the bride. Her room comes with a four-poster bed, silk wallpaper and a waterproof flatscreen in the bathroom. While Kate might be a little too nervous to eat anything before the ceremony, I hope her family takes advantage of the first-class chef the hotel has on staff. The kitchen is known for its Lobster Thermidor omelets--yum!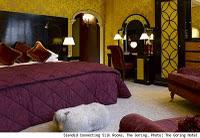 The Goring defines itself as the quintessential British hotel. Each room is individually designed in a range of color palettes. Most rooms overlook the historic Victoria Square and Beeston Place, while a select few--including Kate's--overlook the garden. The bathrooms are stocked with Egyptian cotton bath sheets and various toiletries from English perfumer, Molton Brown. The hotel provides bathrobes and slippers, 24-hour room service, internet and on-demand movies. As far as other amenities, the Bar features a verandah that looks out over the gardens. It offers the finest wines, deep tea blends and wonderful treats to nibble on. The food at the Dining Room is prepared with fresh, local ingredients, and each dish is a tribute to English heritage and culture. They serve everything from Eggs Drumkilbo and Gulls Eggs to Cornish Sardines with Sea Sandwort and the best oysters on earth. (Their words, not mine.)
It certainly sounds like a fairytale, but then again, Kate will soon be spending her evenings in a palace, so this is a nice preview of what she will have the rest of her life.