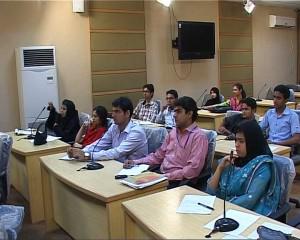 Students at Punjab University participate in a video conference with American students and faculty. (Photo: Punjab University)
The OECD has been working extensively on education; its top of the line agenda is to achieve quality education system in OECD countries.  The center of a quality education system is innovation and knowledge management, which can help to foster economic growth, provided entrepreneurship and research in the country is playing a pivotal role, because innovation and knowledge management can answer following questions:
What new skills and competencies do today's students need?
What are the critical skills and education needed for innovation?
How can the education system meet the needs of a new generation of learners and their future society and economy?
Any revolution in higher education will inevitably involve entrepreneurship because of the direct relationship between the two. As Dr Javaid R Laghari said in his recent article:
"Models of economic growth have underscored the central role of knowledge accumulation to gross domestic growth. The modern university, with its mix of teaching, innovation and research, is different from the universities of yesteryears, which only served as teaching grounds. By introducing innovation, creativity and interdisciplinary research as a vital component of teaching, and with knowledge exchange programmes, the university contributes more directly to the economy and society than many other institutions."
Pakistan's Higher Education Commission (HEC) has established Quality Enhancement Cells (QECs) to improve the standards of quality of higher education in a systematic way with uniformity across the country, while Institutional Performance Evaluations (IPEs) help to elucidate whom the institution serves and what it intends to accomplish. Both IPEs and the QECs are self-evaluation processes to determine quality and ensure good governance is maintained at institutions. Offices of Research, Innovation and Commercialization (ORICs) have also been established at leading research universities in order to bridge the gap between universities and the industry, which is working proactively in driving the sprit of entrepreneurship and relevant research to help to carve the economy. The next focus of HEC will be on the creation of a knowledge economy, which means that education revolution is already under way in Pakistan.
Dr. John Nash researched "Non-Cooperative Games" in 1950, the idea of which was derived from the lessons of Sir Adam Smith (The Father of Modern Economics) who said, "In competitions individual ambitions serve the common goal." Nash revised this statement by portraying the case:
If you all go for a blond, you all block each other, not a single one of you will get her. Now you all go through her friends and they all give you the cold shoulders because no body likes to be the second choice. But what if no one goes for the blond, you don't get in each other's way and you don't insult the other girls. That's the only way we win.
Which means, he continues: "The best result will come when everyone in the group doing what's best for 'himself' and the group."
In the motivation and interpretation section of his research he note that "There are situations in economics or international politics in which, effectively, a group of interest are involved in a non-corporative game without being aware of it, the non-awareness helping to make the situation truly non-cooperative."