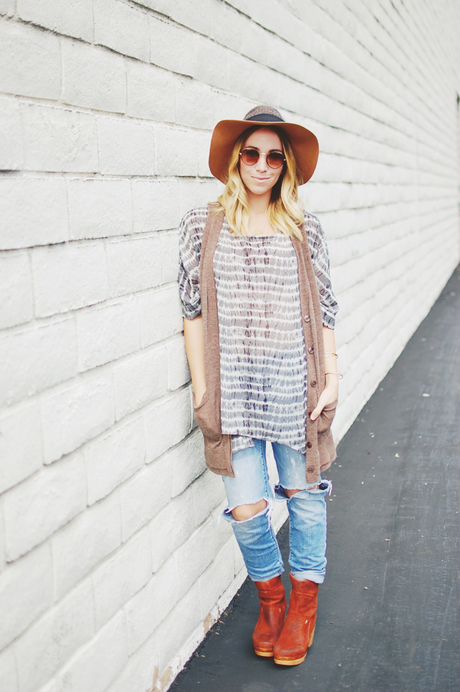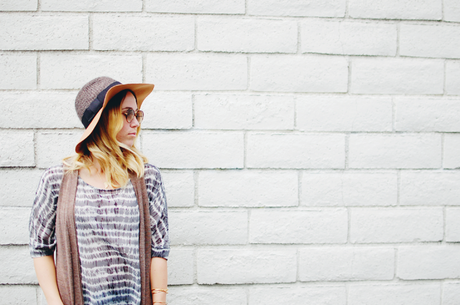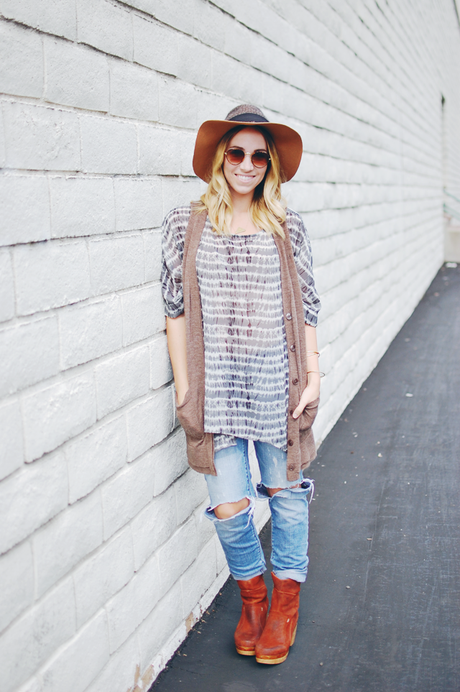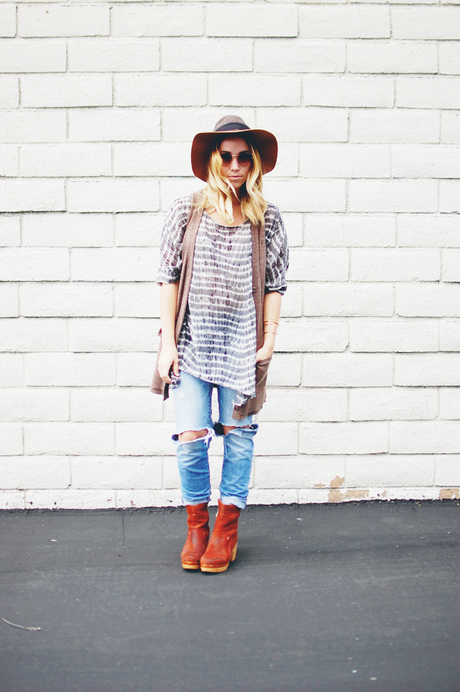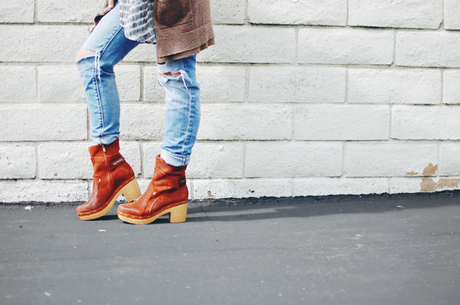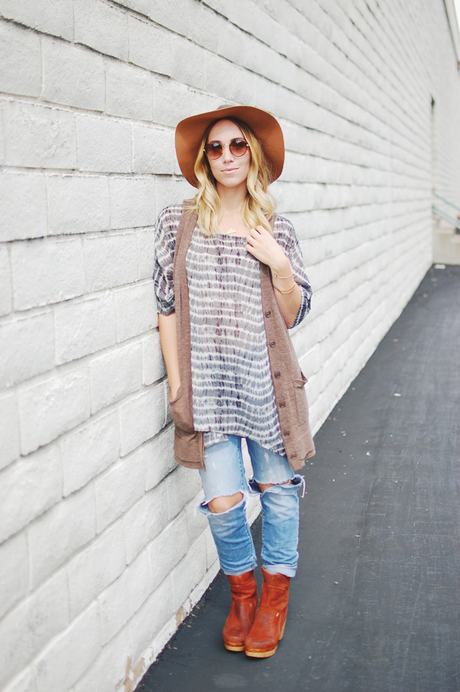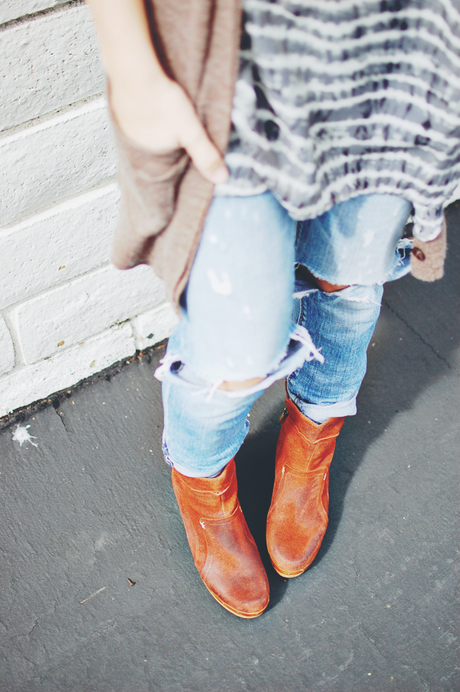 Ronen Chen Tunic
LOFT Duster Vest
LOFT Distressed Boyfriend Jeans
Antelope Ankle Clog Booties c/o
Anthropologie Hat
Make Pie Not War Necklace via Mommy Mailbox
Gorjana Twist Cuff via Rocksbox (use code ABBEYBFF3 for a free month!)
1. The 70's called, and told me they love my outfit, but that they want it back. And then I told them no, because this is probably one of my newest favorite outfit creations. Do you ever get in those funks where you just have no idea how to piece together new looks with the same clothes that have been sitting in your closet for years? I've been going through a major one (hence the absence of these posts for the last two weeks) but inspiration decided to strike at 2 am on Sunday night, er, Monday morning technically. I think I need to get a big Polaroid camera like Cher Horowitz and start photographing all of the looks I put together in those moments. Anyway, these Antelope clog booties are absolutely fantastic. You've probably seen a selection of their boots in Anthropologie. Everything they make is beautiful, so I am happy to announce we will be giving away a pair of any Antelope shoes or boots of your choice next week! Stay tuned!
2. Fact: The "ma" sound is one of the first things babies are able to vocalize, and it is found in almost every language. It's mom in English, maman in French, mamī in Punjabi, me in Vietnamese (source). They all have the same sound, so that is where the word mom or mother got its name. I love that motherhood is truly a universal thing, united in its love and purpose.
3. So, what did we think about the Oscars? Here are my thoughts ... a) Neil Patrick Harris tried his best, but I didn't really think he was all that great. I was mostly bored during his bits. But hey, that would be an incredibly stressful event to host, so kudos for attempting it, Neil! b) Lady Gaga CRUSHED. IT. I was not much of a Gaga fan before, but after her mind-blowing tribute performance of The Sound of Music my heart changed. c) Ole' Goop a.k.a. Gwyneth Paltrow's dress was absolutely my favorite of the night. It reminded me of her 1999 dress—pale pink is totally her color. d) Eddie Redmayne, I love you and want to kiss those darling freckled cheeks of yours. I love it when actors are genuinely surprised and thrilled and gracious.
4. Upon waking up from my weekly nap on Sunday, I thought to myself, Are Sunday naps a Mormon thing? You know, like weird obsessions with Diet Coke and dirty Dr. Peppers, or Cafe Rio sweet pork and Pinterest? Just peruse your Instagram or Twitter on Sunday and 50% of the posts from your Mormon friends are about naps. Am I right? I'm just gonna give myself some credit here and say I am. But the question is why? Have we performed a mild hypnosis on our brains and circadian rhythms to fall asleep right after church? Do all of the emotions associated with church take a physical toll on our bodies? Is it sheer boredom? WHAT IS IT?
5. Would you rather have to walk down the red carpet naked or vomit all over the place during your acceptance speech?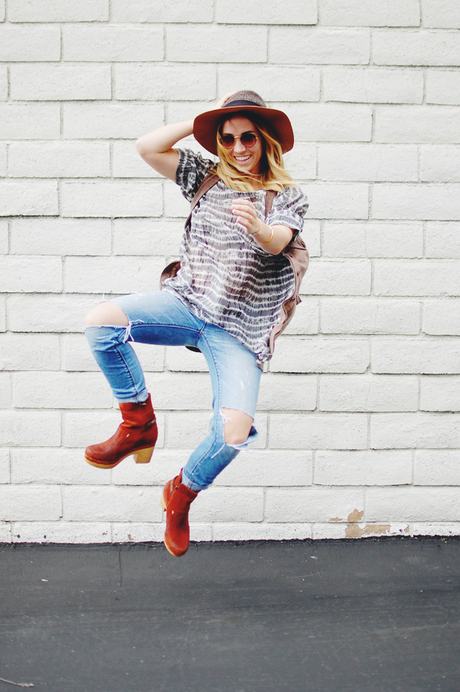 P.S. Heel clicks, because it's a rite of passage when you get your first pair of clogs.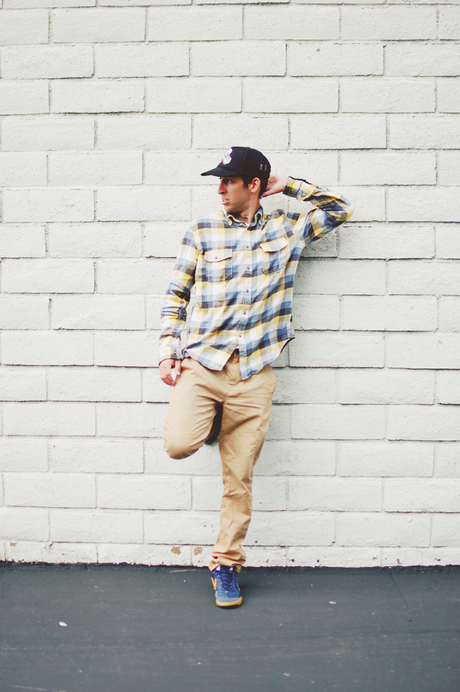 P.P.S. I was sneaky and captured Matt the Fashion Blogger in the wild! Mwaahaha! Also, I desperately want to reenact Sia's "Elastic Heart" video, but Matt won't agree to it. I am telling you, it would be hilariously AWESOME. I really think we could have an incredible parody YouTube channel, but it is just going to take some stealth and convincing. Send me your good persuasion juju, k?