Because horses are history too and because your bloghostess has written too many tragic posts you are now subjected to the life of a race horse. If my "horse terms" are not correct feel free to comment on it so that it can be corrected.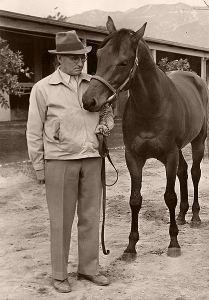 Smith and Seabiscuit (Credit: Wikipedia)
On 23 May 1933 a legend was born. At the time he didn't look like much. As he grew his funny-looking knees, odd gait and his love of eating and sleeping betrayed little of the hidden champion. He had run a record number of races, winning only a handful. His owner couldn't even sell him. It took a unique eye such as trainer Tom Smith's to spot the horse's potential. A race horse owner, Charles Howard purchased a little "nag" named Seabiscuit in 1936 and turned him over to his trainer, Smith, to cultivate. So began a four year long career that would elevate Seabiscuit to new heights.
Smith had his work cut out for him. Seabiscuit had led a miserable existence up until coming into Howard's possession. Under Smith's care he received the attention he needed. Although he was an amiable horse, he could be a stinker and extremely contrary. One day a down-on-his-luck jockey, "Red" Pollard arrived on the Detroit Fair Grounds looking for work. He caught Smith's eye. Seabiscuit had been unusually cantankerous and abused some of the help that day. But when Pollard came up and fed Seabiscuit a sugar cube, the horse took it gladly and nudged Pollard. Smith knew he had found Seabiscuit's jockey and Pollard was hired.
Training on the track proved a little troublesome. Seabiscuit rebelled against authority. Smith was able to correct the problem and it didn't take long for Seabiscuit to discover his love of racing. Especially when he had competition. The horse loved winning, plain and simple. If he could race another horse he would make sure to antagonize the other animal sometimes "breaking them" mentally and in the end winning. His antics sometimes upset other horses so badly they grew despondent.
The little knobby-kneed horse was proving to be a good investment. On various racetracks across the United States Seabiscuit was coming across the finish line victorious. By late 1936 Howard had moved Seabiscuit to California. One of the races coming up was the Santa Anita Handicap. It was around this time during workouts that Seabiscuit ran like he had never run before. The speed was shocking. Unofficially, Seabiscuit had broke a track record by two seconds. Days later he did it again at the race much to the shock of spectators.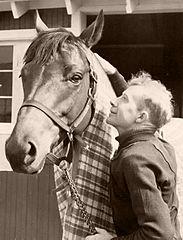 Seabiscuit and Pollard (Credit: Wikipedia)
When the time came to run the Santa Anita Handicap Seabiscuit lost. Pollard received a good deal of blame and the media made sure to browbeat him for the loss. Smith, a man of very few words and with a great distaste for nosy reporters, came to Pollard's defense. The Howards also made it clear they did not blame Pollard for the disappointing loss. But was it Pollard's fault? Perhaps. Pollard had led a hard life and in a freak accident he was blinded in one eye. Knowing that it would mean the end of his career he had never told anyone about the blindness. At the Santa Anita Handicap, Seabiscuit's competition had come up from behind and Pollard had, apparently, not seen the horse until it was too late to act. And so Seabiscuit lost the race.
Smith hated for the press to observe Seabiscuit's workouts. He took pains to make sure they weren't around to watch. It became a battle of wits. At times Seabiscuit's half-brother, Grog, was called in to run the races in "the Biscuit's" place and the press was none the wiser. The two looked so much alike that it was easy to mistake one for the other.
1938 was a difficult year. Pollard was nearly killed in an accident and then nearly had his leg torn off. The jockey that replaced him, George Woolf, was threatened with kidnapping and then suspended from racing. On another occasion a person had been hired to "sponge" Seabiscuit but was caught. What is sponging? It is the illegal and rather fatal act of shoving pieces of sponge up a horses nostrils. Often times it would not be located for days and in the meantime the horse was likely to lose the race.
On November 1938 a match between Seabiscuit and his "uncle", War Admiral, took place on the Pimlico Race Course (video at the end of this post). Both horses were legends in their own right. In the time leading up to the race the hype took the nation by storm. Everyone, it seemed, was talking about the upcoming race. On November 1 the two great horses met on the racetrack. The pair took off. At one point they galloped side by side eyeing one another. Like he had done so many times before, Seabiscuit gleefully "broke" War Admiral and carried himself across the finish line. Fans poured out onto the racetrack.
During another run at the Santa Anita Handicap, Smith considered scratching Seabiscuit from the race. He had a foreboding. But already the horse had been scratched too many times and fans were growing disgruntled. During the race Seabiscuit stumbled. Woolf heard a strange sound but Seabiscuit appeared to be alright. The horse continued on, reaching the finish line (albeit not in first). By that time it was obvious to Woolf something had happened. Seabiscuit's suspensory ligament had ruptured. His career was over, everyone predicted.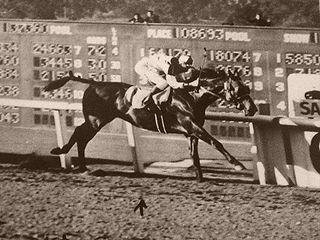 Last race (Credit: Wikipedia)
In 1940 Seabiscuit and Pollard made their comeback. The latter would never fully recover from his leg injuries but it wouldn't stop him from racing. The two had spent the last months recovering together. The condition of Pollard's leg was still precarious, while on the other hand Seabiscuit's recovery had led to the correction of his strange gait. The pair's first race placed them in third. Later attempts proved more successful. They returned to the Santa Anita Handicap and emerged the winners. It was a happy way to top off Seabiscuit's career. He was retired shortly after.
Seabiscuit had brought the Howards, Smith, Pollard and Woolf together. With his retirement they went their own ways. The latter three led hard lives and had their share of woes. Seabiscuit himself was not long for the world. He died of a heart attack on 17 May 1947.
Source: Hillenbrand, Laura. Seabiscuit.