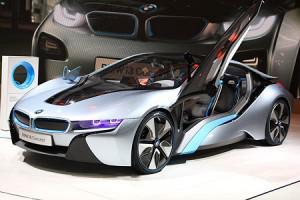 Whether or not you're a fan of electric propulsion, one thing has become wonderfully (or as it may be the case, painfully) clear: electric vehicles (EVs) are here to stay. Not too many years ago, we were hearing the first rumors about General Motors' Chevrolet Volt. Sure, the Toyota Prius had been out for a decade, but it wasn't exactly piquing anyone's interest. The Volt, on the other hand, could be driven to and from work using electricity alone and it had a gasoline engine as backup. For environmentalists and a lot of car enthusiasts, this concept was pretty exciting.
After the Volt debuted, the news just got better. In 2008, the Tesla Roadster went on sale and was unanimously regarded as the world's first all-electric sports car. Not only could the Sport model hit 60 miles-per-hour in under 4 seconds, but its EPA-estimated combined range of 244 miles gave it genuine practicality. And as you may have heard, Tesla recently expanded its model lineup to include a 4-door sedan called the Model S. The company is also working on an SUV known as the Model X, to be released by the end of next year, and is developing a smaller, cheaper model to compete with the BMW 3 series by as early as 2015.
While Tesla is still working to bring more practical and affordable EVs to the market, Nissan remains the clear leader in this category. Sales of the Nissan LEAF in the U.S. haven't been spectacular (3,148 units have been sold since the beginning of the year), but they far outnumber sales of its closest EV competitors—the Mitsubishi i miEV (333 sales), and the Ford Focus EV (10 sales).
As important as the Leaf and other value players may be, there are some big-name exotic vehicles on the horizon that could forever change perceptions of plug-in hybrids and EVs. Audi recently lapped an all-electric version of its flagship R8 around the Nurbergring just 4 seconds slower than its V8-powered counterpart. Meanwhile, BMW is planning to sell its i8 Concept hybrid sports car by 2014, which it says shows that you should "never underestimate the potential of electricity." In September next year, Porsche will start selling its fastest-ever production vehicle, the plug-in hybrid 918 Spyder, which will be powered by two electric motors and a V8.
Cynics might argue that electric vehicles are just another example of government-forced market failure, but like it or not, electricity is the next frontier of automotive innovation.
Image