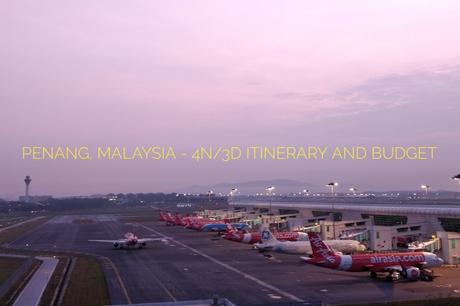 Hi! I'll start this post off with the most cliche of all cliche lines: I know it's been a while BUT I wanted to get on here for a quick moment to tell you about my impromptu long weekend trip to Penang, Malaysia a couple of weeks ago. Life has been one hell of an emotional rollercoaster recently and even though a vow has been made that 2019 would be a strictly 'one trip only' year, August and September have been rough and a solo trip out of the country seemed like the perfect break.
Penang Malaysia's always been up there on the list of places I've wanted to visit but none of my friends were really interested in going through the hassle of getting on two flights from Manila. And while the tickets I bought from Cebu Pacific and Air Asia weren't the cheapest they could have been, it seemed like a perfect fit because I happened to have a long weekend last weekend thanks to one strategically filed annual leave and a holiday that fell on a Friday.
My slight obsessive-compulsive tendencies flared up while I was planning this trip, can you tell? Below is the table of projected expenses and activities I wanted to do during my very short three day holiday.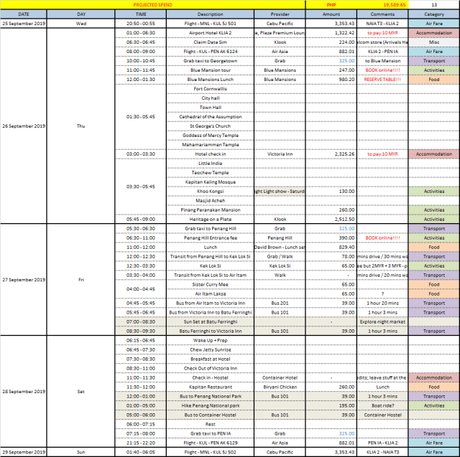 Truthfully a big part of the reason why I listed everything down was because I didn't want to go over budget. Our Kuala Lumpur trip in 2013 is still by far the cheapest international trip I've ever taken and I didn't want to mar Malaysia's track record in my book. As you can see, 20,000PHP is still quite a large amount but in my defense I am a solo female traveller, a lazy one at that, so I didn't really mind paying for a little bit of convenience here and there.
Google Maps had definitely been my friend while I was building this table of expenses; thankfully Google Maps listed down the bus fares along with the public bus routes and Grab taxi fares I knew as I was building it that it's quite an ambitious itinerary given that I only had three full days, so the lines highlighted in gold (Batu Ferringhi sunset watching and the Penang National Park trip) were the 'optional' activities.
Anyways, long story short, here's the table of ACTUAL expenses and activities: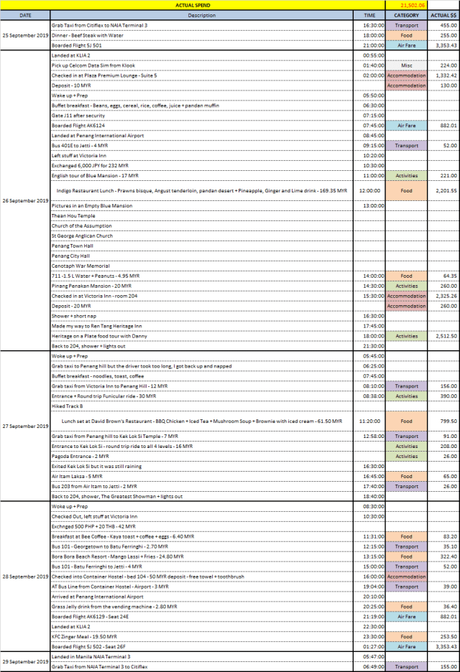 And here is the breakdown according to category. Unsurprisingly, Air fare takes the biggest slice with Food coming at a very distant second place.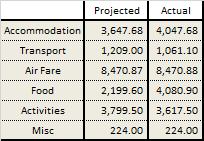 Hopefully this short little post will prove to be helpful to anybody who wants to go visit Penang soon because while there were a lot of blog posts about Penang, a lot of them were outdated by at least three years.