Who says you can't surprise with ads in print?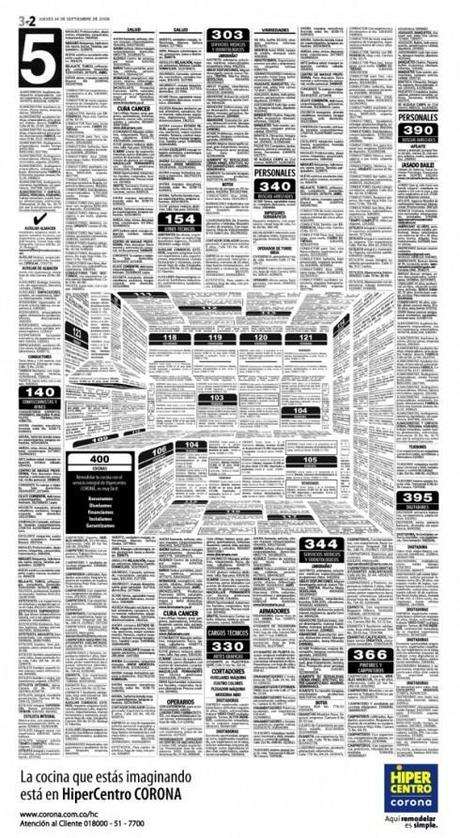 Is that a kitchen in the middle of a busy classified page?
Indeed, it is.
Felipe Salazar, a Colombia-based creative director, has created an ad for Corona Kitchen that stands out and even makes you think there is a 3D image of that kitchen counter aiming at you. typical classified ads page of the newspaper, this ad manipulates the newsprint columns to create an optical illusion that make it look as though a miniature kitchen has been embedded right into the newspaper.
Salazar places the image of the kitchen, which is created through the use of traditional newspaper columns and text, as in a classified page. It is the manipulation of those newsprint columns that creates the optical illusion of a miniature kitchen that appears to have taken over the page.
I am happy to see this ad, not only because of its creative approach, but also because it appears in print. At at time when so many have given up on anything innovative with print, I like the fact that this is doing advertising in print happily.
Hope this idea takes off!
TheMarioBlog post # 1471
Please enable JavaScript to view the &lt;a href="http://disqus.com/?ref_noscript"&gt;comments powered by Disqus.&lt;/a> <a href="http://disqus.com" class="dsq-brlink">comments powered by <span class="logo-disqus">Disqus</span></a> </article>