Sunday marked the fourth walk that I have lead this year and I have hopes for leading a fifth before 2016 passes… Even though, I've yet to decide which one I'm definitely going to submit.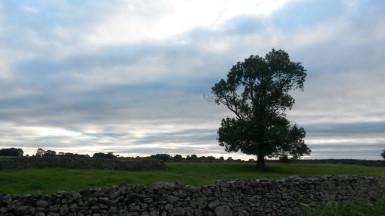 Sadly, I didn't take any photos from the day but the ones you'll see in this post are from another Priddy pre-walk to finalise the final portion of this walk, from Friday evening.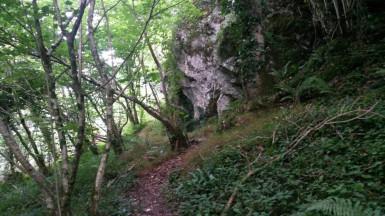 There was eleven of us in all, which I thought was a good turnout, considering another walk was on the calendar for the same day, along with Bristol's annual Balloon Fiesta – and, perhaps, the only day of the weekend in which it was deemed 'safe enough' to actually launch the balloons…
There was plenty of banana bread and chocolate chip cookies for everyone and a load leftover for myself.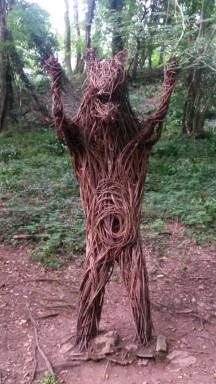 As on the previous Friday, I parked close to Deerleap and proceeded to descend in to Ebbor Gorge. Bypassing the West Mendip Way initially, I dropped down an alternative set of steps from the car park and soon passed the infamous bear – which, I'm pleased to say, is doing a lot better than the big cat.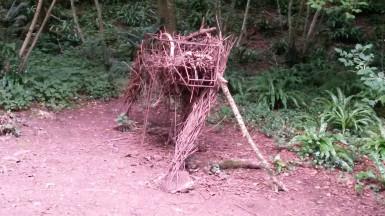 Someone recently told me (via. social media) that both creations are liable to repair at least once every couple of years. On the way down, I thought of how I could revisit another day and try to seek out the caves that are mentioned on the OS map.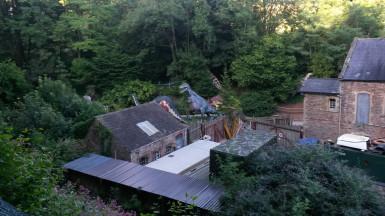 As an alternative to my previous pre-walk here, the 'return' portion of my walk would this time continue up along the western edge of Wookey Hole Caves – from which, I could peer down in to the "prehistoric" site below.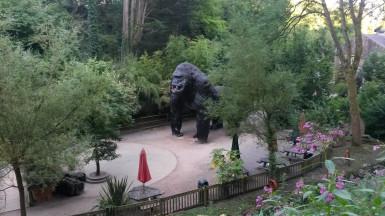 This place was almost deserted, at somewhere beyond 19.00. But for King Kong to the north, I also noticed a couple of people sat casually on benches near the road-end of the site.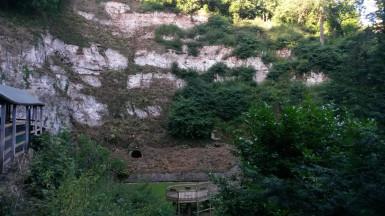 I've never once visited these show-caves, or the ones up in Cheddar Gorge. Honestly, I feel like it's an experience I have now outgrown and would feel more reluctant to pay the £16 entrance fee… But still, I wonder.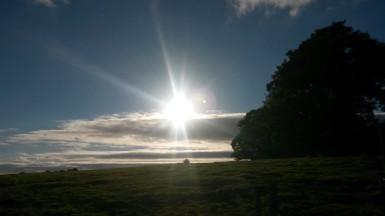 You can walk up as far as the sheltered area in which the queues would form, having purchased their tickets further back. From here, the legal right of way has already veered left and uphill through the trees.
It wasn't a long climb but it did offer an abrupt challenge, following on from the descent and what would've been lunch at the gorge. Emerging from the woods and over a stile, the footpath continues west for a short distance, across the top of the field. Beneath, on the OS map, the words 'Hyena Den' are printed in italics… I've always believed it to be a portion of the show-caves site.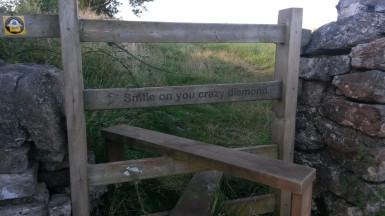 From here, I ignored the legal right of way to follow a sheltered woodland track up beyond a metal gate. There is nothing to indicate this 'Green Lane' as a public right of way but it does lead to a further series of footpaths and, compared to my previous evening pre-walk here, this option was proving to be preferable.
Beyond the next gate at the top (again, no footpath sign, padlock or warning to 'keep out') I chose to bypass the direct route of the Monarch's Way, in favour of a meandering trail that ascends gradually in a north-westerly direction, to the top-left corner. From there, it's a pleasant walk along high ground to the stile you see in the photo above.
On Sunday, everyone seemed satisfied with the way they had been led and we were fortunate not to encounter a single cow. It is, by far, the 'least intensive' route, of the three I have now attempted. Was it legal? Well, that's a question I cannot answer!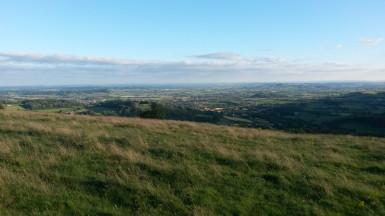 As ever, the reward for this effort came in the form of these views across Somerset – including Glastonbury Tor and at least two of the local nature reserves.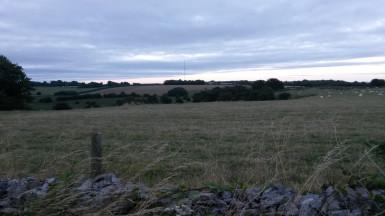 From reaching Dursdon Drove, I'd hoped to be able to follow the Monarch's Way back up to the road and our direct return route across the Mineries. However, the grass was close to waist height (even for me) and I knew that, if this first field was bad, the second would only be the same. So instead, I walked west briefly and followed a bridleway in the direction of Lower Pitts Farm.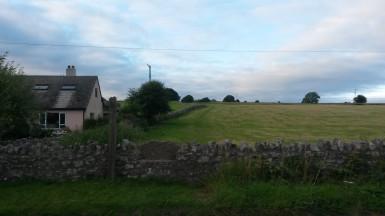 Crossing over the road, I'd then climb over a stone stile to venture along a route that I had never followed before. Walking a good half-a-mile east along the road to catch up with my intended route did not appeal to me.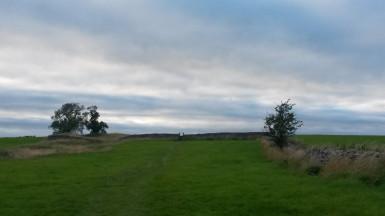 Heading west from here – and back towards my car, where I would otherwise turn east on the day of the walk – I couldn't help but to admire the landscape. Flat and absent of any notable high-rises in the vicinity. Each field was lined with a drystone wall around its perimeter. As I reached the edge of one field, a stone stile – some with a series of steps – would lead me over and on to the next.
Now, I haven't been to the Yorkshire Dales and I've only witnessed a small scale of the landscape in Derbyshire… But, I immediately thought of the countryside of 'Up North' [yes, I'm sure there are people willing to point out that Derbyshire is a midlands county…].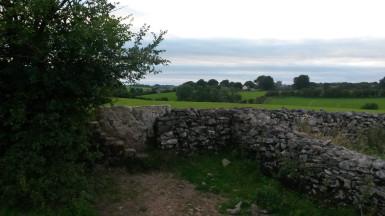 Where I followed the waymarks with a little too much confidence, I found myself heading towards the center of Priddy without any trouble but, as I turned back from passing beside a house, I realised I'd accidentally followed the non-public footpath that leads to and from Swildon's Hole Cavern.
It wasn't long before I walked past the bustling pub, along Pelting Drove and back to my car, at around 20.15. It was quite frightening, to realize how the nights are suddenly drawing in early again.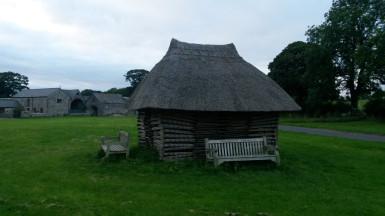 On Sunday, we attempted to stop for a post-walk drink at the locally well-known Castle of Comfort… This was around 15.00 and, no sooner had we parked up, a pair of windows flung open from the side of the property to inform us that the pub was closed… In the mid-afternoon, on a Sunday, with warm weather, right alongside the B3134 road…
We ended up stopping off at another pub near West Harptree, which was conveniently on the way back to Bristol. Now, I feel like I might understand why the Castle often looks so quiet, as a I occasionally drive past.
It was a good walk and I look forward to my next.
9 miles on the day and an impressive 6.5 miles from my second evening pre-walk.
Thanks for reading.