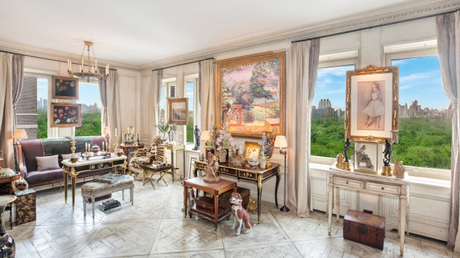 is what Sotheby's is calling the apartment of interior designer Howard Slatkin's over the top 5th Ave apartment.  The blogosphere is abuzz with the news that this grand apartment is on the market!  Considered a collector's decorator, Howard lives a lavish lifestyle.  This luxury brand ambassador and co-creator of home fragrance line Slatkin & Co., as well as the organic candy company Torie & Howard, has created an 18th century masterpiece in Manhattan.
An elevator opens into the grand entry that was created by opening up two small rooms.  It boasts limestone floors, scenic wallpaper panels from Paris, a custom 11 foot handmade plaster ceiling, and Louis XVI doors.  You know you have walked into a very special space.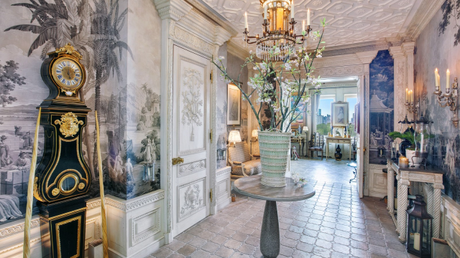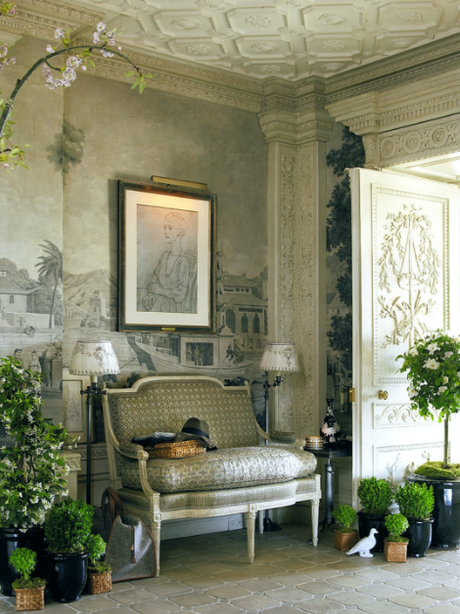 The 8 windows in the living room overlook 58 plus feet of Central Park views!  He took a pre war co-op and turned it into an Old world palace, "Every doorknob, tile, silk lampshade is one of a kind" and designed by Howard.  Collections of all types abound.  Textiles, papers, and furniture are culled from all parts of the world.  The look is "not of this moment," but expresses a life well lived.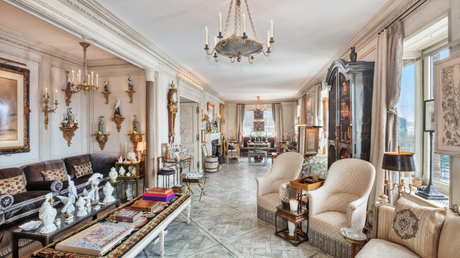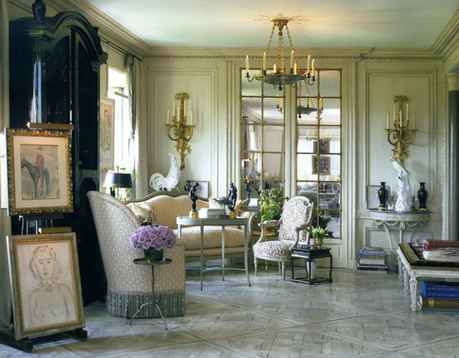 "His sense of beauty is so exquisite and personal that our homes gained by his hand are not only pleasing to the eye but caressing to the heart," says Nilli de Rothchild.  How beautiful!  That is the highest compliment a designer could hope to get, and who with such precision and passion helps others execute a home of deeply layered and nuanced refinement.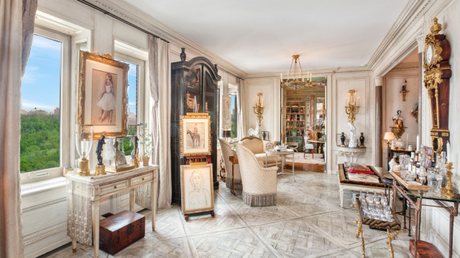 No detail was overlooked in the 3 year, full apartment renovation overlooking Central Park.  Mahogany and leather wall panels in the library continue the opulence found throughout.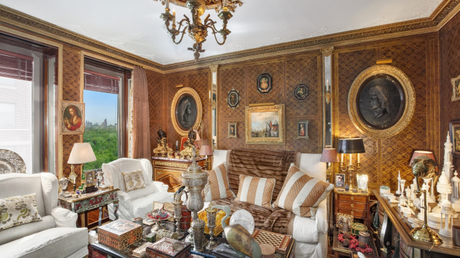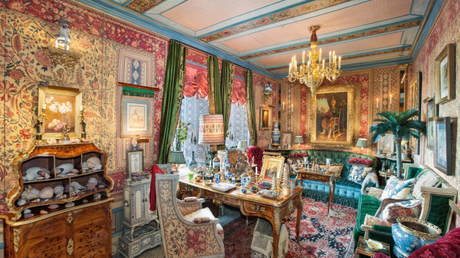 The dining room was inspired by Raphel's loggia at the vatican.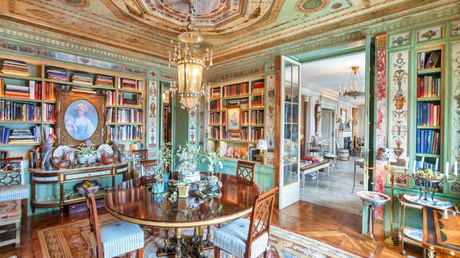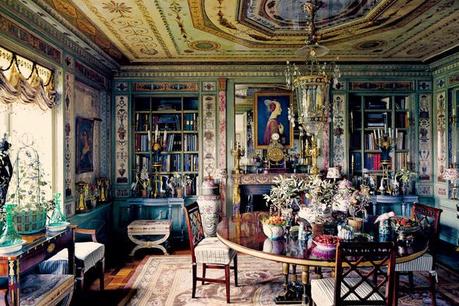 Delft tiles envelope the highly decorative eat in kitchen with completely modern amenities.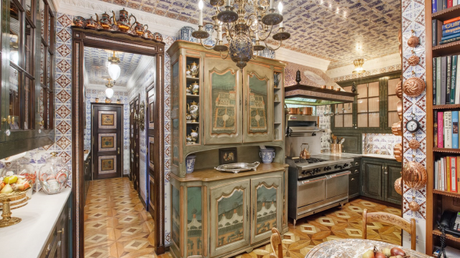 A hidden door leads you into the master suite with its gilded moldings, printed cotton wall covering, and more cherished objects.  Beyond that is a couture closet fit for a king.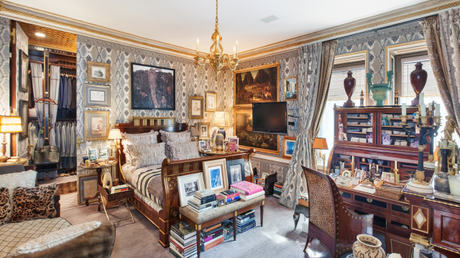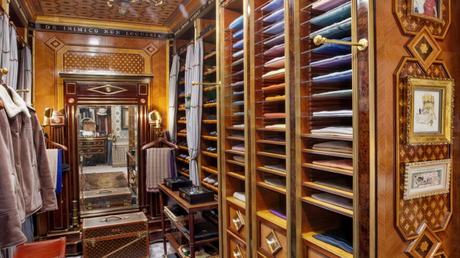 The guest room with its French empire steel and bronze canopy bed takes on a garden feel with fancifully 18th century painted wallpaper and layers of Stark fabric.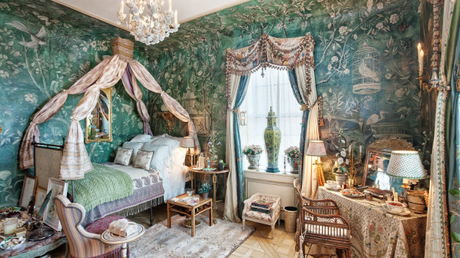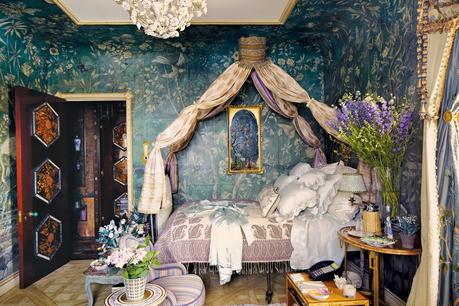 The screening room, decorated with an Orientalist theme is Howard's favorite place to relax.  A TV is hidden in the recessed ceiling.  The walls are reversed tea stained Indian bedspreads.  

"The desire to live in comfortable rooms filled with treasures that ultimately represent one's journey through life,"

  is a mantra Howard obviously lives by.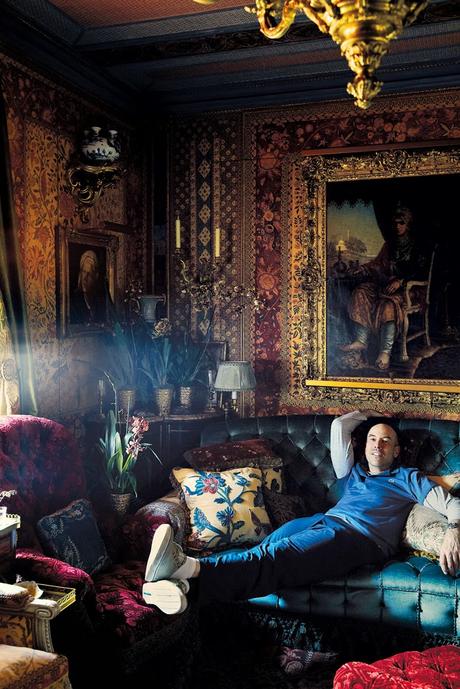 Every surface is an opportunity to display rare and beautiful objects d'art.  This Russian Louis XV desk in the screening room is no exception.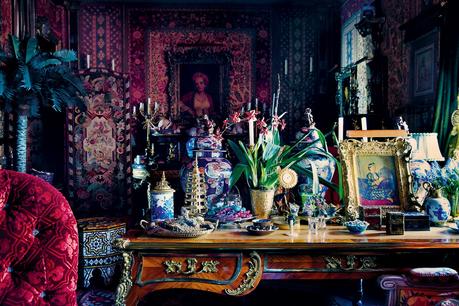 A flower room, hidden bar, silver closet, butler's pantry, maid's quarters, and more make this an unrivaled classic.  You can't ask for more except maybe the 10 million it will take to purchase it.  If that is not in the cards, you can enjoy the apartment from the comfort of your armchair in Howard's coffee table book describing in detail the magnificent apartment he called home and the elegance with which he decorates and entertains.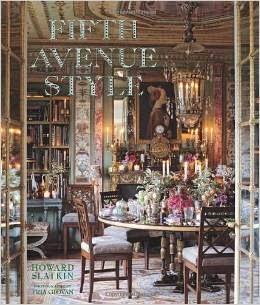 You know what they say, when a home is actually finished it's time to move.  I am thinking Howard is packing up all his beautiful treasures to begin again, anew.
ph: Sotheby's, T magazine and Howard Slatkin