Dave Dombrowski struck again on Monday, as he sent Wade Miley to Seattle in a four-player deal that included reliever Carson Smith.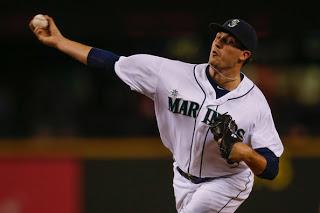 Also included in the deal was reliever Jonathan Aro going to the Mariners, with starting pitcher Roenis Elias coming to Boston.
Smith was very solid for the Mariners last year, going 70 innings and striking out 92. He posted a 2.31 ERA while going 2-5 in 70 games. He figures to be a solid setup man with Junichi Tazawa and Koji Uehara. Smith is 26 years old from Texas. Here's more about him.
Elias is a 27-year-old Cuban-born lefty (born in Guantanamo) who has started most of the last two seasons in Seattle. He was 5-8 with a 4.14 ERA in 2015, and figures to be a back-end of the rotation starter. He still has options left and most likely will begin 2016 at Pawtucket. His more about him.
Miley was probably the most tradeable of the Red Sox starters last year. He was an innings eater last year, nothing spectacular but consistent.
The good folks at Fangraphs seem to like this trade, and think Smith could be a bullpen ace down the road.