According to the ever-dependable Wikipedia, the word "pot-luck" first appeared in 16th century England meaning "food provided for an unexpected or uninvited guest, the luck of the pot." These days, in my own life, it has been reinterpreted as an economical occasion for my foodie friends and I to come together and share creatively prepared dishes and an exchange of laughter-filled stories.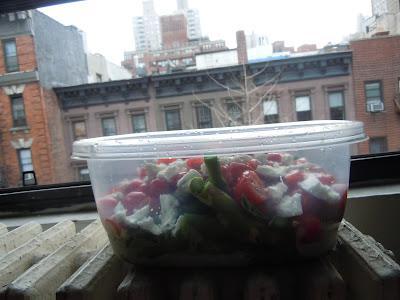 Our latest potluck was at Leslie's (the same location of our first potluck, albeit at her former apartment on Wall Street). Plans were made over a flurry of emails--figuring out the date and time, deciding upon who was going to bring what, and sharing snippets of laughter about our day-today lives in between.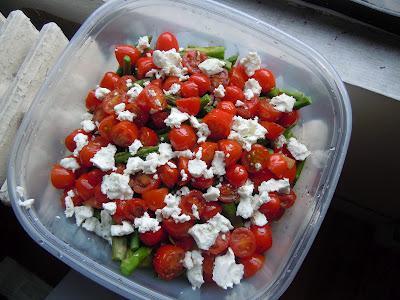 I brought a vegetable dish inspired by Pinterest. The recipe caught my attention because of its simplicity and seasonal ingredients, even if it was framed as an Easter Side Dish on Cooking Light; I blanched fresh asparagus, sliced cherry tomatoes and sautéed them in garlic, olive oil, and balsamic vinegar, then placed together and topped with sea salt, fresh ground pepper, and crumbled goat cheese.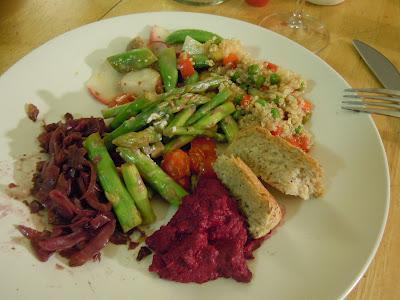 Later that night, I filled my glass with wine and helped myself to the array of our delicacies. Anna prepared the classic Veganomican Pineapple Cashew Quinoa Stir-fry, Rebecca whipped up a perfectly light potato salad, Sarah contributed Monkey Bread and fresh feta cheese, Shayne made an awesome beet hummus, and our wonderful host Leslie served quite the delicious red cabbage side.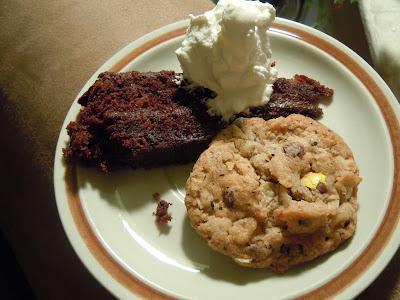 For dessert, Megan brought fresh whipped cream to top her festive Chocolate Guiness Cake, Sofia created somehow created better-than-Momofoku compost cookies, and Shayne offered her second contribution, a truly delightful date bread. I obviously had more than a few bites of everything, the decadent cake especially.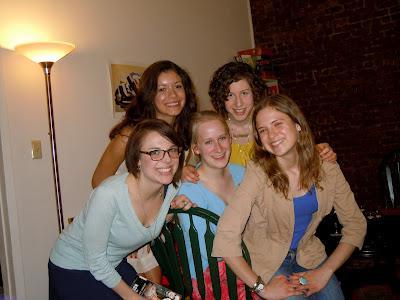 By the party's end, I was so completely satisfied with the variety (I am a mezze fan, after all) and even a little bit wine drunk (notice the teeth?) after arguably one too many glasses. I wouldn't have had it any other way. We'd entertained ourselves with conversations of books and bat mitzvahs, new jobs and bad dates, plans for summer fun and reflection on childhood oddities. Although we're arguably each at distinct points in our twenty-something journeys, I'd say we're pretty darn lucky to be able to have formed such a friendship at the table.