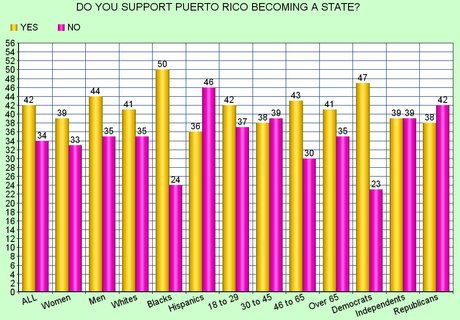 The idea of making Puerto Rico a state has been tossed around for quite a while now. And a new poll shows that a plurality of the U.S. public would support making it the 51st state (42% to 34%), with 24% saying they don't know if they support that or not.
Only two groups oppose Puerto Rico becoming a state. It's no surprise that the Republicans oppose it (though by only 4 points -- 38% to 42%), because they fear to would just add more Democrats to both houses of Congress. The real surprise for me was that Hispanics, by a significant margin of 10 points (36% to 46%) say they oppose the idea.
Two other groups are split down the middle -- Independents and those between 30 and 45 years old. All other groups show significant support for making Puerto Rico a state. I agree with these groups. I have thought for a while now that we should either make them a state, or cut them loose. What do you think?
The chart above was made from a recent Public Policy Polling survey -- done between March 26th and 31st of a random national sample of 989 registered voters. It has a margin of error of 3.1 points.