We've had 24 hours to absorb the shock from the sucker punch delivered to us on Tuesday.
Today, we pick ourselves up from the ground, wipe away our tears, and spit the bitterness out of our mouth.
Today, we start fighting back.
This post is about how.
How do we start fighting back? What do we do to preserve and take care of ourselves in the next very difficult four years? How do we collectively and individually get ourselves into fighting shape?
We can start by heeding the counsel of Grassfire's Steve Elliott, who compares our present circumstance with the ancient Hebrews who, 2500 years ago, also found themselves in exile, having been pushed out of Jerusalem and forced to live under the tyrant Nebuchadnezzar.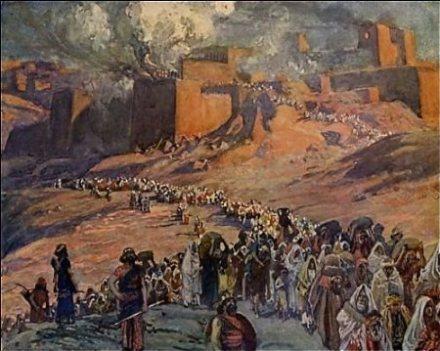 The Flight of the Prisoners, by Tissot
The Hebrews wanted to recover and restore Israel. A prophet named Hananiah said their time of exile would only last two years, but he turned out to be a false prophet.
Then a real prophet, Jeremiah, told the exiles the truth. Instead of two years, their exile would endure for 70 years:
This is what the Lord says: "When seventy years are completed for Babylon, I will come to you and fulfill my good promise to bring you back to this place. For I know the plans I have for you …" (Jeremiah 29)

Though in exile, the Hebrews are assured they have not been abandoned:
"For I know the plans I have for you," declares the Lord, "plans to prosper you and not to harm you, plans to give you hope and a future." (Jeremiah 28)
The Hebrews received, in Jeremiah 29:4, the Lord's specific instructions on how to conduct themselves in exile:
Build houses and settle down.
Plan gardens and eat what they produce.
Marry and have sons and daughters.
Marry off your sons and daughters so they can have children.
Increase in number; do not decrease.
But doing the above is not enough. People in exile must do something else — they must be a blessing to the land:
"Also, seek the peace and prosperity of the city to which I have carried you into exile. Pray to the Lord for it, because if it prospers, you too will prosper."
Historians tell us it was during the Babylonian captivity that the Israelites moved from a Temple/Jerusalem focused society to a synagogue and community focused society. Simply put … It was the lessons learned during their time in exile which enabled the Jews to survive their subsequent, even longer years in exile — the 2,500 years of the Jewish diaspora. But not just survive — but to thrive and become the most prosperous, most successful and most innovative people group in the history of civilization.
In our time of trial and exile, we too must rebuild; plant and garden; marry and have children and grandchildren; increase in number via biological reproduction and via teaching and converting.
And through it all, we are to bless the land with our goodness and right behavior, and pray, pray, pray:
"Then you will call on me and come and pray to me, and I will listen to you. You will seek me and find me when you seek me with all your heart." (Jeremiah 29:12-13
Like our readers, FOTM writers also must step back, reflect, and reevaluate. Some of us have allowed our other obligations — to home, family and our selves — take a back seat to the urgency of the 2012 election. We must now attend to them, and so the daily number of posts on FOTM will diminish. But that doesn't mean our commitment to the cause is diminished even one iota.
Speaking for myself, I need to attend more to my household and garden. I need to get myself into better fighting shape by losing at least 5 lbs. and exercising more than the minimum recommended 3 times a week.
Anyone want to join me? We can start a self-help group to encourage and cheer each other on, in achieving the goals we've set out for ourselves. I welcome your ideas and suggestions!
In closing, like the ancient Hebrews, we should not despair because God is with us:
"And I will utter my judgments against them touching all their wickedness, in that they have forsaken me, and have burned incense unto other gods, and worshipped the works of their own hands. Thou therefore gird up thy loins, and arise, and speak unto them all that I command thee: be not dismayed at them, lest I dismay thee before them. For, behold, I have made thee this day a fortified city, and an iron pillar, and brazen walls, against the whole land, against the kings of Judah, against the princes thereof, against the priests thereof, and against the people of the land. And they shall fight against thee; but they shall not prevail against thee: for I am with thee, saith Jehovah, to deliver thee." (Jeremiah 1:16-19)
Update:
In an essay on Facebook, "Wretched" places the blame for Obama's reelection squarely on America's churches (h/t Sage_brush):
"Obama is a problem, but he is not the problem.  THE problem in America today is the church.  Permit me to persuade you.
If a liberal church focusses on the environment, who are they inclined to vote for?
If a progressive church defines marriage as "anyone who is committed to another person,"  do you suppose they will vote red or blue?
If a prosperity church focusses on healing and free money from God, who do you think they will pull the lever for?
Surprise, liberal, progressive and prosperity churches voted overwhelmingly for Barak Obama. Why? They are bad churches with bad teachers delivering false teachings resulting in heretical beliefs which inspire wrong actions that deliver horrific consequences. [...] if we want to reclaim America we had better reclaim the churches first.The result of strong, healthy, Biblical churches is strong healthy faith which changes rotten thinking into righteous thinking which produces holy behavior generating good consequences.  If you don't like the results of this election, don't blame Mitt, the Republican Party or Chris Christie.  Blame the church.[...] Instead of abandoning ship, doing home church or church shopping every Sunday,
dedicate yourself to a local church to: fix it, serve it, fund it, cleanse it, help it, support it or reform it if necessary. 
If we focus less on Washington and more on our local churches, the nation will be better off."
~Eowyn