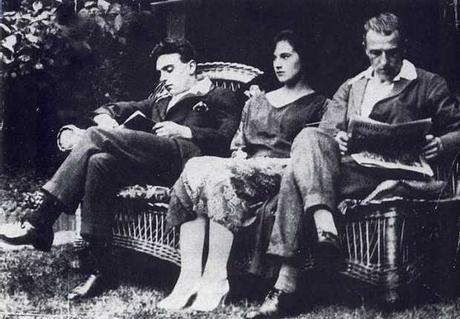 I read A Pin to See the Peepshow as part of a podcast over at Tea or Books?, when Simon and I decided to read and compare two books based on the same real life murder trial; that of lovers Edith Thompson and Freddy Bywaters, convicted and hanged for murdering Edith's husband Percy in 1922. (The other book is Messalina of the Suburbs by E M Delafield, which you can hear all about on the podcast!) F Tennyson Jesse, who spent much of her career writing about true crime, found this trial fascinating, being as it was that many considered it to be a miscarriage of justice, with Edith Thompson always pledging her innocence. As such, her novelised version, with a pretty, intelligent and ambitious heroine, Julia, being cast as the unfortunate Edith, is a very interesting, sympathetic account of how thoughtless actions can lead perfectly ordinary people into a nightmare from which there can be no escape. It was certainly enough to send shivers down my spine!
The novel opens with Julia Almond's schooldays, where she is the pet of her teachers in their small, suburban school filled with middle class girls. Julia is bored of her drab surroundings, and her painfully boring, unaffectionate parents. She longs to make something of herself, and have beautiful things, and fall in love. Passionate and more than a little selfish, she feels life and its injustices incredibly deeply, and struggles to control the emotions that tussle within her chest. Her lively imagination, ambition and keen sense of aesthetic beauty elevate her above her contemporaries, and soon she finds herself in the enviable position of being a shopgirl at L'Étrangère, a smart West End boutique run by a society lady as a bit of a hobby. Julia becomes utterly absorbed in the shop, revelling in making herself invaluable, and soon she is responsible for buying, even being sent to Paris to do so. Successful and attractive, Julia believes herself capable of anything, but when her father dies and she and her mother begin to struggle financially, Julia's harmonious life is shattered by the reality that she will soon have to share her bedroom with her younger cousin when her mother's relatives move in to share the housekeeping costs. Relishing the sanctity of her own space, the thought of sharing with someone else, of losing her freedom to come and go and do as she pleases, is enough to throw her into the arms of her father's newly widowed friend Herbert Starling, whose freshly acquired military uniform and status, as well as his smart flat, suddenly make him a most attractive prospect.
Hastily married and installed in her smart, clean flat, away from the press of relatives who she hated seeing after her busy days working in the shop, Julia is content. She is talented at her work, enjoys the social whirl of wartime London, and the problem of not really loving her husband is something she can at least, for now, put on the back burner. However, when Herbert returns from the front, unscathed, he expects to find Julia ready to play the role of a traditional wife, and Julia's disgust for the man she is now trapped with leads to a nightmare of evasion and recriminations. Neither able to understand or accommodate the needs of the other, their marriage is a disaster, made even more so when Julia meets Leonard Carr, and falls madly in love. Longing to be with him, but unable to leave Herbert, she snatches any time she can find with him, in the meantime writing obsessive, lavish letters detailing her love and all the things she would do to be with him. She fantasises about Herbert's death, never dreaming of doing him harm, but wishing one of his many hypochondriac ailments will kill him for her, especially after he forces her into sex with him. However, she doesn't anticipate that Leonard will eventually have enough of the situation, and take matters into his own hands, dragging her down into the depths of hell with him as she finds herself suddenly on trial for her life….
This a brilliantly written, wonderfully psychologically complex look at women's lives in the early 20th century, and Tennyson Jesse's skill at making Julia's actions so utterly comprehensible and sympathetic is extraordinary. Where the book really comes into its own is in the final chapters, when Julia reflects on her life while waiting to be condemned in her prison cell, and her realisation of the completely unrealised joy of freedom, and the fact that she will never have it again, is heartbreaking. Her life, once so busy, so purposeful, has been destroyed by an emotion that she is not even sure is real, and the way in which Tennyson Jesse subtly questions the true depth of her and Leo's relationship is very skillful. I also loved the glimpses into the working world of women in the Edwardian period, the flashes of London street life from the tops of omnibuses, and the domestic details of everyday Edwardian homes. Overall, however, I loved Tennyson Jesse's beautiful writing, and her ability to create a world so convincing, and a character so sympathetic, that I was almost in tears at the end. This is a remarkable book, and I can't recommend it highly enough. It's currently out of print, but is widely available used. I'm now looking forward to reading more of Tennyson Jesse's work. Any recommendations would be welcome!
Advertisements