Although not by nature an early riser, I've been finding myself waking earlier since the weather got so warm.  I sleep with the windows open and hear the birds chirping at sunrise.  One day I even woke before sunrise and got to watch it from my balcony.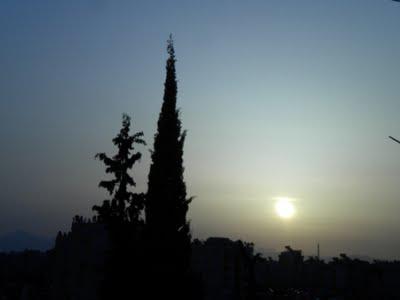 Sunrise from my balcony.
So when Irina called and said she was giving an 8:00 AM yoga class on the beach I thought, "yeah, I can do that".  It was unbelievable.  One of the restaurants at Baki beach with an outdoor platform and a canvas roof moved their tables aside to make room for us.  We were protected from the sun overhead but still in open air looking right at the Mediterranean in front of us.  They put Irina's yoga CD on their system, and I felt like I was at one of those expensive yoga retreats.  But here, it's just part of daily life.  
After class we celebrated a birthday with champagne and chocolates Irina had brought back from her recent trip back to Russia.  We called this our Ayurvedic breakfast.  This was followed by a group swim in the refreshing waves.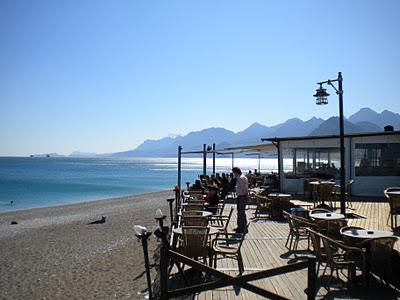 I then walked over to Gaby's apartment, where we had a proper breakfast (cheese, olives, and her homemade strawberry marmalade) on her balcony, overlooking her garden full of fragrant gardenias and sprawling bouganvillas, with the sea and the mountains in view.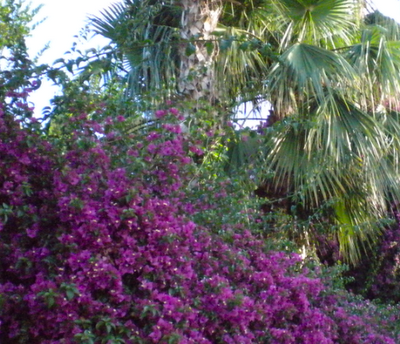 Typical Antalya flora.
Later Gaby and I went into town for dinner and music in Kaleici, and I picked up a few souvenirs gifts to be distributed on my summer trip back to the States, and I took some photos.  Every time I go downtown I find a new subject.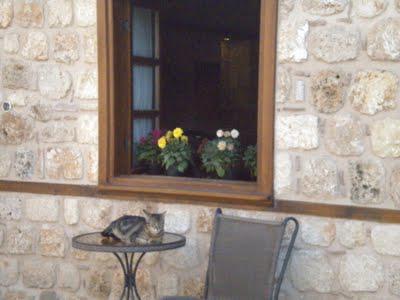 Kaleici Kedi (cat)