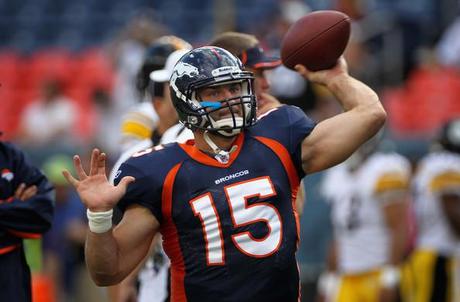 As the year of 2012 dawns, the big sports story right now is one person: Tim Tebow.
Time for my take on Tebowmania.
I think Tebow is a good kid. Respectful to the media and fans, loved by his teammates, doesn't seek out publicity, helps kids, and is a really decent individual. He'll never be on the police blotter. He has caught the football world's attention over the amazing victories he's pulled off for the Denver Broncos in 2011, especially the OT win over the Pittsburgh Steelers last Sunday. The Broncos appeared to be playing out the season when Tebow was made the starting QB, and now they are just two wins from the Super Bowl.
But his rise to NFL prominence has caused plenty of controversy. He clearly isn't in the same league as a QB as the NFL's elite, such as Tom Brady, Drew Brees and Aaron Rodgers. I'm not overly impressed with Tebow as a QB, and he reminds me a lot of the old-time Vikings signal caller Joe Kapp. Kapp, like Tebow, didn't throw a beautiful spiral or put up eye-popping numbers. But he got the Vikings to victory (except in Super Bowl IV), and would take on linebackers and usually win.
And Tebow's star rising has caused a lot of resentment. He was ripped in a vile and disgusting way by Bill Maher, who I have no respect for (and don't get me started on him). Maher made a putrid statement on Twitter about Tebow and Jesus that I wouldn't even link to here. And Charles Barkley recently called Tebow "a nightmare."
Maher and Barkley are nothing but the worst kind of media whores, who'll say anything for attention, no matter how vile or stupid. Maher has a hard-on against anything to do with religion, and is obviously threatened by someone like Tebow who isn't afraid to talk about God or Jesus openly. I'm sure Tebow could care less about Maher or Barkley.
Peter Gammons wrote a pointed and right-on-the-mark statement on Twitter last Sunday after the Broncos OT win:


To cynically mock (Tim) Tebow's deep, sincere beliefs defies conscience, as does Pols who scream freedom, then try to tell us what we can believe.


Tim Tebow has every right to state his beliefs openly, like any celebrity is right to voice their support any kind of political candidate openly as well. And openly praising God is nothing new in sports. How many times have we heard a sports figure give "all praise to God" in a post-game interview? And in baseball, I remember some Latin players entering the batter's box and blessing themselves. Today we see players like David Ortiz and Albert Pujols pointing to the sky after they hit home runs. I don't see anyone ripping them for that, do I?
But I also think the media has gone WAY overboard on Tebow. Deadspin just put up a post about a recent edition of SportsCenter on ESPN, and they mentioned Tebow's name a staggering

160 times

in a 60-minute show. That's just a typical example of media overkill, and it will breed resentment.
The Broncos are a 13 1/2 point underdog against the Patriots on Saturday, and many people think the Tebow bubble will finally burst. I'm sure if the Pats win easily, Tebow will be ripped unmercifully no matter how he plays. But if they pull the upset...
The NFL has had a lot of bad publicity recently, like the guy in Chicago who got nabbed by the Feds for selling drugs. They really need all the Tim Tebows it can get. Is Tebow just hype? Perhaps. If the Broncos stop winning games with Tebow at the helm, the bubble will have truly burst, and he'll become just a memory. We'll see.