A European acquaintance of mine invites me every year to the Journées d'entraide de la Marine, a charity fair for widows and orphans of French sailors. It is held at the Navy museum at Trocadero, a gorgeous space which Jacques Chirac coveted and tried to seize for his primitive-art museum. Little did he realize the strength of the lobby arrayed against him! He was forced to give up the idea, and his museum was built across the river and called the Musée du Quai Branly (I think he was hoping it would be named the Chirac Museum, but it wasn't).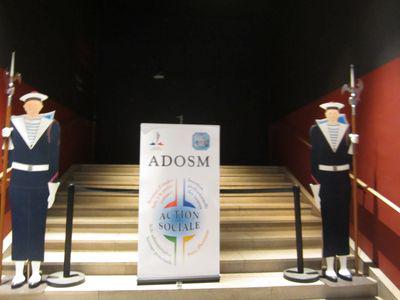 In the old days the fair was held upstairs in the museum itself, and with the invitation came a parking permit that allowed you to park right in the center of the Trocadero roundabout. That was fun! Made you feel important, and then the stands inside the fair were strewn about the exhibits in the high-ceilinged museum, so that you got a visit to the museum along with your charity purchases. Nowadays, probably for security reasons, the fair is downstairs in a much smaller, low-ceilinged space that was, when I visited, meltingly hot.
Uniformed sailors checked my invitation and I walked past a catering tent serving oysters and champagne, a coat check, and a long corridor full of many older women chatting in groups-- wives of French Navy officers, I was told. In the main part of the charity fair were French Navy stands selling books about the Navy (with authors signing them), Navy china (the Marine française has a pretty porcelain service for officers, which you can buy), clothing, insignia, hats, and a brocante selling discarded objects from ships and officers of the French Navy.
Further in was artwork with the Navy theme-- watercolors of ships and sailboats, old prints of destinations of the Navy, and paintings of airplanes and battleships. In the biggest room, besides a Chinese sculptor doing terracotta busts from life before your eyes, a used book store, and an impressive brocante, military attachés from various foreign countries stood at their stands with their wives, selling products from their countries. The Cambodians had beautiful silk shawls. The British stand still had Christmas puddings, but had sold out of lemon curd-- a worker there told me that some people had bought sixteen jars at a time. The German stand sold gingerbread and stollen and advent calendars, and the Italian stand had wine, breadsticks, gourmet pasta and the usual delicious Italian ham from Val d'Aosta. Of course I wondered what the American stand had to offer.