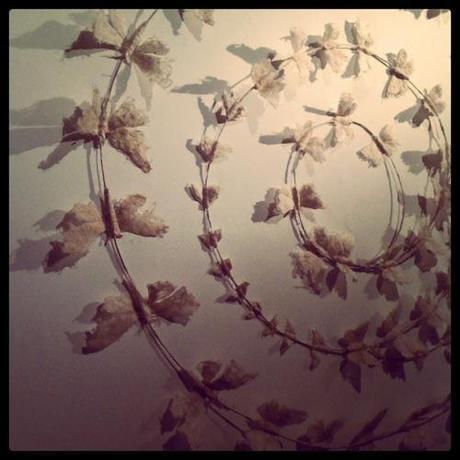 In the back lanes and little side streets of Chippendale on "Little Queen Street" awaits a paper wonderland to yet be discovered "Here today, Gone tomorrow, Life's fragile nature" at NG art gallery.
I walk in, only to be greeted by a rainbow chinese dragon (hand cut by Chen Hangfeng) and how brilliantly pleasant he was.
Waiting patiently at the top of the stairs was the most delicate and intricate works I have ever seen, by creator and paper genius "Hina Aoyama". Her work was so fine and detailed that it reminded me of lace. Her work was an absolute delight to gaze upon and I felt like I could continue to look at it forever and still be full of intrigue and surprise.
Next to capture my attention was the work of "Clair Brewster". Her works were kind and had this soft presence about them. Her 3 works were all cut from maps of Australia and I loved again that you felt like you could look forever and as long as you kept looking the art pieces would keep unfolding and sharing their secrets with you. One element that I truly loved about Claire's work was the shadows that were created from the cut outs of her work. It almost looked as though the birds (in "This world is not enough") were flying out of the paper.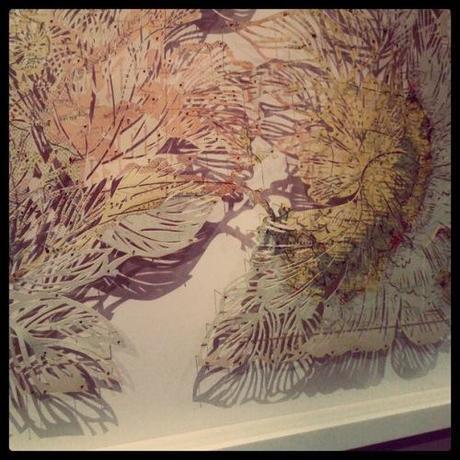 Spots, Dots and all kinds of colours was next to captured my attention. Artist Lizzie Buckmaster Dove hand cut paint swatch cards to create her ever so stunning "Month of Moons". I loved how striking and 'punchy' Lizzie's work was. A real show stopper and attention grabber.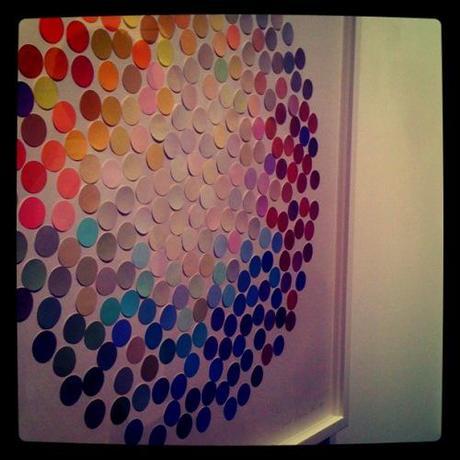 And last but not least was the ever so whimsical and romantic works created by Emma Van Leest. Emma's works were charming and made me feel as though I had been whisked to a far away kingdom where there are kings and queens who held grand balls. I love that when you look at Emma's work it seems as though her work is moving…as though the breeze is flowing and the garden and chandeliers are silently swaying.
I left this showcase of work with wonder in my heart, as I had seen the even greater ability between the hands of the creator and the fragility and vulnerability of paper and how paper has limitless potential to display and create beauty.
This display of art works is a must see for any admirer of paper and all things beautiful.
Visit Elise Maree's blog to view her stunning paper works