My irreverent, irrelevant ramblings reached the grand old age of 10 in October last year. It passed by without notice. Blog years are like dog years so all things being equal, Perking the Pansies should have been sent to the knacker's yard yonks ago. The fact that the pansies continue to thrive is a testament to those who still take the time to pass by after all these years. It makes this old nag very happy. How long will it continue? Dunno.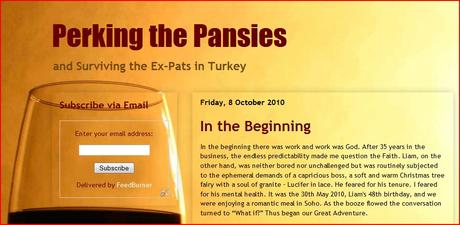 The very first post on Blogger!
But what is certain is that the book that emerged from the early days of the blog changed everything and took Liam and me in an entirely different and totally unexpected direction. And that book – Perking the Pansies, Jack and Liam Move to Turkey – reaches its own 10th anniversary next month, and that hasn't passed me by. The fact that after a decade it still sells at all is a minor miracle and rather humbling. I thank you.
"A bitter-sweet tragi-comedy that recalls the first year of a British gay couple living in a Muslim land. Just imagine the absurdity of two openly gay, recently married middle aged, middle class men escaping the liberal sanctuary of anonymous London to relocate to a Muslim country. Jack and Liam, fed up with kiss-my-arse bosses and nose-to-nipple commutes, chuck in the towel and move to a small town in Turkey. Join the culture-curious gay couple on their bumpy rite of passage."