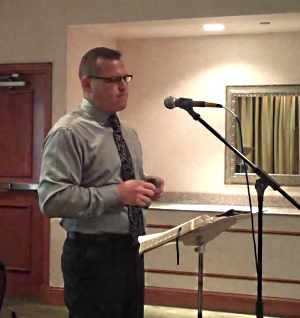 Pastor Eric Philpot
Cross Life Church
[courtesy Google Images]
WWJD
"@ > 'tax-exempted entities', …"
"IF IF IF you mean those 501 C3 type v. "NON 501 C3 or whatever the number is, churches, the only difference is just that, nothing else. I can go to either & get the same B.S. sermons. And, I say this because I have visited both types. Maybe I misunderstood your comment, if so, I apologize."
Here's my reply:
You apparently believe that all Christian churches deliver nothing but B.S. sermons.  There's a lot of truth to that, but it's not entirely true.  I attend a non-501(c)3 church each Sunday afternoon.  The pastor is Eric Philpot, a former infantry captain in the U.S. Army.
I've attended his "Cross Life Church" for about four months.  The meetings are held at a local hotel conference room, and typically attract an audience of 25 to 50 people.
Pastor Philpot and his wife pay to rent the conference room each week out of their own savings.   Sometimes they pay for some food that's made available at no cost to the audience after the sermon.   In the four months that I've attended this church, Pastor Philpot hasn't once asked for the audience to contribute a nickel to pay for the room or the food—and he's not a rich man.  He's not in it for the money.
He usually speaks for about 45 minutes.  When he's done, virtually everyone in the room wishes he'd speak longer.  I've never once been bored by his sermons.  Most of the time his sermons seem directed at me.  I expect other have the same reaction.
I used to attend a Bible study group near Utopia, Texas that I deeply enjoyed.  Other than, I've attended a number of different churches over the years and they all bored me flat—except for Pastor Eric's Cross Life Church.
Church is no longer a chore.  I can't wait to attend the next service.  Those services are usually the highlight of my week.
I don't always agree with his theology, but he's at least 25 years younger than I am, and I expect that his understanding may grow somewhat more like my own over the coming years.  Or, perhaps my theology will change to become more like his.  But, despite occasional theological disagreements, I'm so amazed by the man's passion, capacity to communicate, and commitment to telling truth no matter what, that I can't help but be delighted by the blessing of having found this church.
If the world holds together for another 20 years, I won't be surprised to see Pastor Eric Philpot recognized as one of America's finest clergymen.
Below, is a link to a video of the sermon he delivered last Sunday (January 5th, A.D. 2014).  It may the strongest sermon I've heard from Pastor Eric.  I won't say that the video conveys the same power as the actual sermon, but it's close. There were a couple of moments that brought tears to my eyes.  But if last week's sermon was a little stronger than some, it wasn't otherwise unusual.  The man's capacity for honesty and delivering sermons is remarkable, even astonishing.  His sermons are typically delivered without benefit or script or notes.  He's not reading his sermon.  He may be simply speaking from memory, but I think there's more to it.  I think the Good LORD gives Pastor Eric at least some of the words he speaks each week.
The video is 56 minutes long.  The sound stops after the sermon ends at about 44 minutes, but the video continues for another twelve minutes.  I presume that most of my readers won't want to devote 44 minutes to listening to last week's sermon.  But I hope that some of you will listen.  I hope, especially, that the man who condemned all church sermons as B.S. will listen to this sermon and let me know if he also finds Pastor Eric's sermon to be disappointing.
If he is also disappointed by Pastor Eric, all I can say is that his standards for sermons must be much higher than my own.
I've listened critically to Pastor Eric for several months.  I came to this church expecting more B.S.  My expectations were unfulfilled.  After about 3 sermons, I began to wonder if Pastor Eric was "for real".  Today, I'm convinced that "something special" happens at his church.
I'd be glad if just one sermon per month seemed to be a "spiritual" experience.  But, for me, every one of Pastor Philpot's sermons is a spiritual experience.
Every sermon has struck me as incredibly honest, insightful and applicable to modern life.  This man amazes me.  I don't claim that he is, in fact, a prophet, but he is far more than an ordinary preacher.
Listen to the subjects he talks about in the following sermon:  betrayal by our own government, the New World Order, homosexuality, the loss of American sovereignty, and the list goes on.  I doubt that you can find more than one minister in ten who would touch all of these politically-incorrect topics in a dozen sermons.  Pastor Eric touches them all in one sermon.
Ohh—and, again, this is a non-501(c)3 church.
After the sermons, a dozen or twenty of us will meet in the hotel restaurant, have dinner and enjoy some of the most wonderful conversations I've ever had.  There are intelligent, honest, open, sincere people in this church's audience and when they start to communicate, we share insight, intellect, truth and humor.  I leave for church at 4:30 PM each Sunday.  I don't get home until about 11:00 PM.  I spend at least 5 hours in that church and with the church members every Sunday, and I the only reason any of us leave is that we are finally too tired to continue talking.
I wish to God that I'd found a church like this 40 years ago. It would've changed my life for the better long before I became a senior citizen.
The point to all of this article is that, however unlikely it may be that we'll find a truly "good" church these days, they're out there.  They do exist; they can be found.
Here's the video.
If you happen to be in Dallas area, and you want more info on Pastor Philpott's Cross Life Church, look here:   http://crosslifefw.org/Contacts