I usually try to do my homework when I go out for dinner. I check what's in the neighbourhood, see if they have a website and look at their menu.
Before Easter we went to Warrnambool for a weekend to show my visiting sister some of the Victorian countryside.  We took a leisurely trip down the Great Ocean Road with stops to admire the scenery and top up the caffeine levels.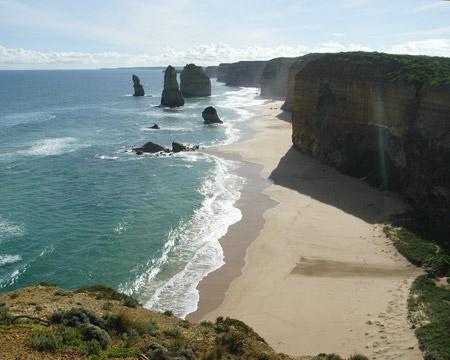 Travelling hopefully - We check out the dwindling 12 apostles rocks from the lookout on Victoria's Great Ocean Road
After we'd booked in to our accommodation we decided to walk round the CBD and choose somewhere to eat out on a Saturday night. We found the dining precinct and went from place to place, inspecting the menus on the doors and windows and eventually deciding – with a bit of help from online reviews – that we'd book ourselves in at Nonna Casalinga. The place seemed to have ambience and the thought of a nice Italian meal appealed.
All started well. Our drinks order was taken, we asked if we could have some olives and were given a small bowl of olives, chillies and white anchovy and some bread. So far, so good.
We mulled over the menu and  ordered some starters. I had the prosciutto crudo plate which was good. The others went to for Clearwater Bay prawns with garlic, fresh tomato and gremolata and the lightly spiced fried calamari with garlic aioli. OK but nothing outstanding.
For mains we ordered the charred prime eye fillet with its red wine reduction, beetroot, blue cheese and walnut salad; the duck with  pear chutney, orange reduction and fondant potato; the chicken saltimbocca with green peas, marsala reduction and cheese risotto. And some wine to accompany.
In due course our meals appeared, but no wine. We had to start eating. As I cast my eye from plate to plate, there was a certain sameness about each dish. They were all sitting in a pool of  identical "reduction".  I was curious enough to sample each one. Apart from one having a barely perceptible amount of sweetness, they all tasted the same. Certainly no hint of orange with the duck.
Our wine had got as far as the end of the bar behind us but the woman who'd taken or order was still busy chatting with diners. In the end I asked the person behind the bar if I could help myself. She quickly volunteered to do the opening and pouring.
After reading the online hype and noting the restaurant was listed in The Age Good Food Guide, I have to say the meal was very disappointing. The beef had lingered longer in the pan than requested, the duck was stringy and dry. The saltimbocca certainly wasn't jumping in my mouth and a miserable little piece of sage adhering to one of the two small chicken portions didn't add any flavour.
No point in lingering at the casa when Nonna's influence clearly wasn't in the building. We left, too.
A leisurely amble through the streets the following afternoon revealed dining pickings were going to be even leaner on a Sunday night. Many places were closed. However, as we were reading the menu in the window of one small place, a friendly chef came out and she confirmed they would be open – and it was BYO.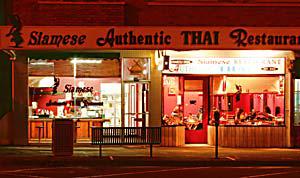 Half takeaway, half dine-in - Warrnambool's Siamese Thai Restaurant.
The Siamese Thai Restaurant is half restaurant, half takeaway. The dining area isn't large and it filled very quickly. We were served by owner Ronnie who quickly assessed our appetites and Scoville scale tolerance. We definitely wanted some larb but otherwise we left it to him to put together a meal for us and accepted his enthusiastic suggestions including satay, a stirfry, curry.
All was freshly made, tasty, well balanced, attractive, authentic. The staff were friendly and attentive. Obviously the place is a favourite with locals as the takeaway section was busy.
It's the sort of restaurant I'd love to have in my own neighbourhood. With a BYO licence they can devote their energy to the food, and it is inexpensive. Certainly it was far better value than the previous night's disappointment.
No no to Nonna, si si to Siamese Thai.