Happy New Year!
You have probably heard that, or said that, about a million times already, and it is just past lunch time, January 1st!
I have no problem with this, it shows that we want everybody to have a great year. Health, happiness, financial enjoyment, are all wished upon each other.
Many folks even have new year's traditions to aid in having those things that are wished upon. Here in the south, and probably many other places, Hoppin' John is the food of choice.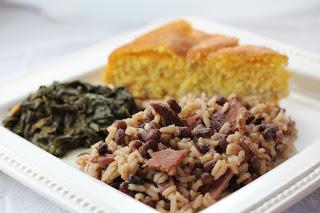 Traditionally made with black-eyed peas that have been cooked with ham hock, Hoppin' John is often accompanied on New Year's by collards (green means money) and cornbread (good as gold).
As for the origin of the dish's name, there are many possibilities, some of which are kind of comical. Some say an old, hobbled man called Hoppin' John became known for selling peas and rice on the streets of Charleston. Others say slave children hopped around the table in eager anticipation of the dish. Then there are those that are demeaning to human intelligence in general, like the notion that it comes from "Hop in, John," supposedly an obscure South Carolina way of inviting a guest to come eat. It's obscure because nobody in South Carolina actually says that, nor have I EVER heard anybody say that.
When it comes to the actual production, it was probably made with something other than black-eyed peas. In October 1907, the Quality Shop advertised in the Charleston News and Courier that they had just received the season's first shipment of cowpeas and noted, "It isn't New Year's yet, but this old Southern dish is always hailed with delight." As early as 1909, the members of the Hibernian Society gathered to enjoy, as the Charleston Evening Post described it, "The New Year's hopping-john, a dish of cowpeas, bacon and rice that invariably gives good luck for the whole year to those who eat it on New Years day."
There are many ways to prepare this meal, but because of the many things that HAVE changed over the years, you will most likely be disappointed with what is served today. Today's ingredients have been transformed by a century of hybridization, mechanization, and standardization to meet the demands of an industrialized, cost-minimizing food system.
The original ingredients of Hoppin' John are simple: one pound of bacon, one pint of peas, and one pint of rice. The earliest appearance in print seems to be in Sarah Rutledge's The Carolina Housewife (1847), and it's important to note that everything was cooked together in the same pot:
First put on the peas, and when half boiled, add the bacon. When the peas are well boiled, throw in the rice, which must first be washed and gravelled. When the rice has been boiling half an hour, take the pot off the fire and put it on coals to steam, as in boiling rice alone.
The last instruction reflects the traditional Carolina way of making rice, it isn't quite like most people make it today. Rather than cooking it 20 minutes until all the water was absorbed, cooks boiled it in a large amount of salted water until the grains had become swollen. Then the excess water was drained off and the pot was left on the ashes to allow to "soak"—that is, to essentially steam over low heat till each of the snowy white grains stood dry and perfectly separate and distinct.
There is so much more history, intrigue and information online concerning this holiday tradition, but, being that this is a gardening blog, I should end on a gardening note.
You can grow some of the ingredients yourself, at least the collards and peas, and maybe get a little closer to the original taste.
It is definitely too late to plant them for this year, this being written on new year's day, but you can book mark this info for next year.
Collard greens are a cool season vegetable and are often planted in late summer to early autumn for winter harvest in the south. Frost actually improves the flavor of collard greens. ( Yankee Editor's Comment-There is NO AMOUNT of frost that can improve the flavor of collards)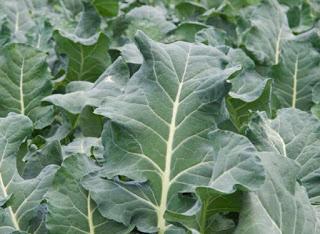 The best collard greens growing environment is one with moist, fertile soil. The area chosen for collard greens planting should be in full sun. Plant seeds in rows at least 3 feet apart, as growing collard greens get large and need room to grow. Thin seedlings to 18 inches apart for adequate room in the rows. While 60 to 75 days is an average harvest time for growing collard greens to reach maturity, the leaves can be picked at any time they are of edible size from the bottom of the large, inedible stalks. Fertilize occasionally, every 3-4 weeks with a liquid fertilizer.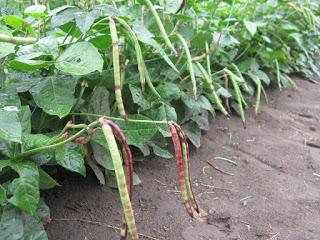 As for the peas (beans), these will need to be grown during the summer and dried, awaiting the end of the year.Plan for about 80-100 days of warm weather in order to grow black-eyed peas to maturity. They should be planted in the spring after the danger of frost has passed and grown in light shade. They'll tolerate full sun, but will need more frequent watering. Plant black-eyed peas in sandy, fertile soil that drains well. Add lots of mature compost prior to planting. The plants will benefit greatly from a feeding of compost tea or an organic fertilizer after seedlings emerge and monthly throughout the growing season. Avoid fertilizers that contain nitrogen as legumes like black-eyed peas already fix nitrogen into the soil and too much can be a problem. Black-eyed peas, as well as many other beans, come in both bush and vine varieties (determinate-meaning all ripen at once or indeterminate-will ripen over a long period of time). Bush varieties can be easier to care for but can take up more space. Vine types need a trellis or stakes to keep their vines off of the ground.Seeds will need 7-10 days to germinate.Well, there you have it, a brief discussion of why you are eating Hoppin John, the traditional way to prepare it, and how to grow some of the ingredients yourself for next year. I can't guarantee it will bring you good fortune, but at least it will give you a chance to work out in the yard, and THAT my friends is priceless!As always, if you have any questions, comments or complaints about this or ANY of my other articles, I am but just an e-mail [email protected] can also check out my up and coming website...http://thecitrusguy.moonfruit.com/Happy Growing!Darren