One of our favorite ways of eating Lamb is in the traditional Northern dish "Lancashire Hotpot", with Lamb and potatoes cooked long and slow and then browned on the top. My dish is one of my own invention; one which turns Lancashire Hotpot on its head and browns some meat and veg first before adding gravy and beans later, to make it into what is almost a stew.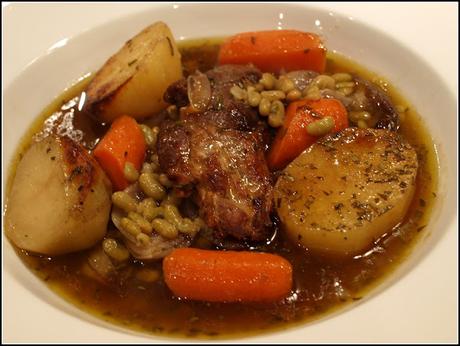 This is where it starts: red onions, carrots and potatoes, peeled and cut into large chunks then slathered in vegetable oil and sprinkled with copious quantities of finely-chopped fresh Rosemary (from the garden).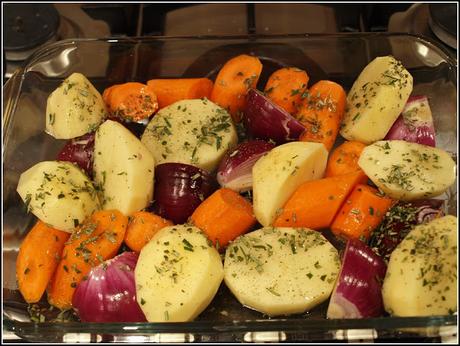 Then I seared a couple of Lamb Rumps (a total of about 300g of meat) in a frying-pan, with a little oil and butter.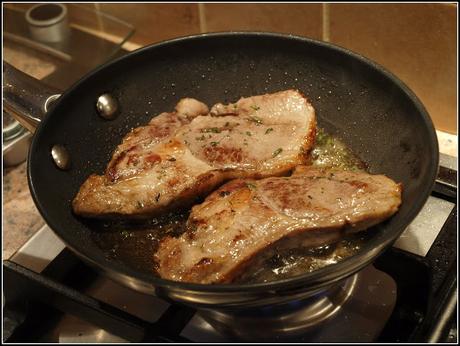 As soon as the meat was beginning to go just a little brown at the edges, I removed it from the frying-pan and placed it on top of the vegetables and put the whole assembly into the oven where it cooked at 160C for an hour.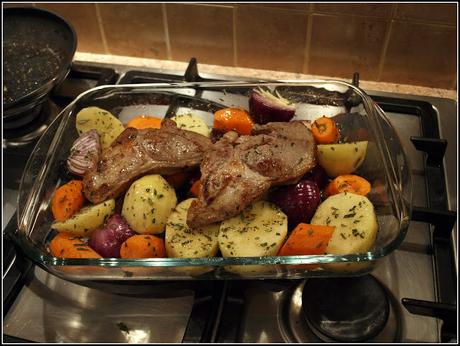 After an hour the vegetables were just starting to take on some color at the edges. This was the point where I added a liter of stock made with a Knorr "Rosemary and Red Wine" stockpot, and a small tin of Flageolet beans. I pushed the meat well down into the liquid so that its juices would add flavor to the gravy.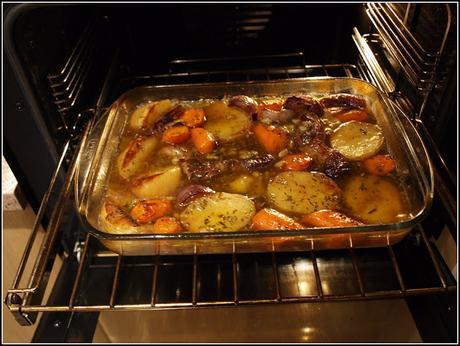 I added some slaked cornflour to thicken the gravy a little. In retrospect, I think a bit more thickening wouldn't have gone amiss...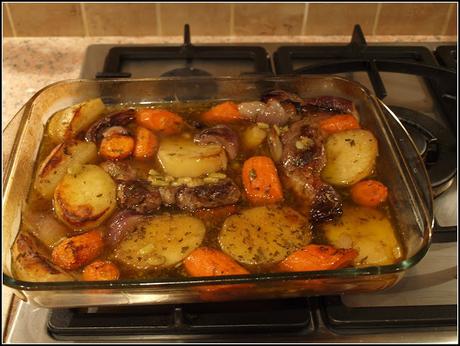 The potatoes were perhaps the best bit of this dish - soft, but not mushy, easy to mash into the strong savoury gravy. I was really pleased with the level of flavouring delivered by the Rosemary too. Very noticeable but not overpowering. I was glad that I had chopped it finely, because Rosemary leaves are quite tough and eating whole ones can be unpleasant.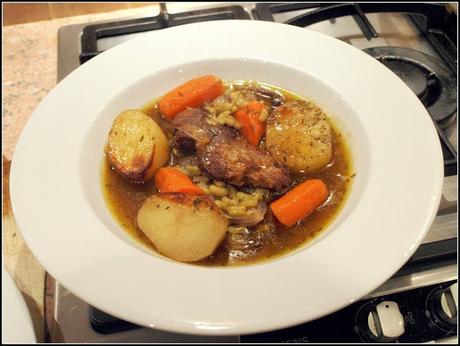 "Anything with Lamb is good" said Jane, and she's right, it's hard to go wrong with Lamb, especially when cooked slowly, and with gravy! Lamb goes well with beans too... This may not be sophisticated food, but it is made with good wholesome ingredients, and from first principles too (if you exclude the tinned beans). None of that Ready Meals rubbish in our house!