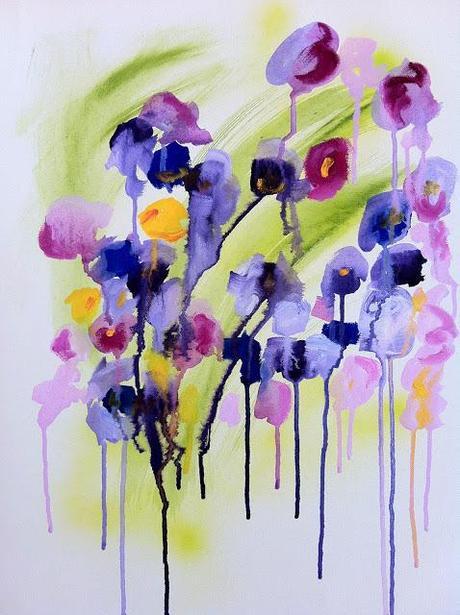 "Pansy redux" 16 x 20 oil on canvas by Kerry Steele
I felt like a little kid painting playing in the mud with this painting. I greatly thinned oils and watched them drip and combine with a satisfaction in the randomness. I intended a slightly different painting but after the second drip bled into another color I knew that I was painting pansies which, as luck would have it, are seasonally apropos.
A few feet away from my easel hangs my
grandmother's painting
with pansies and it is my favorite painting by her.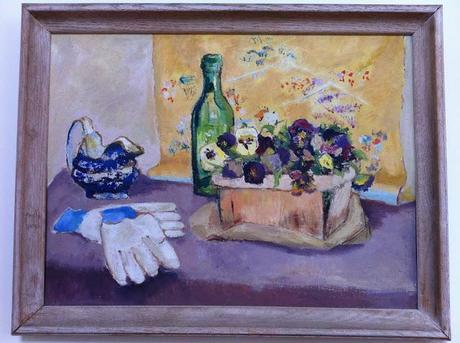 I noticed a few similarities.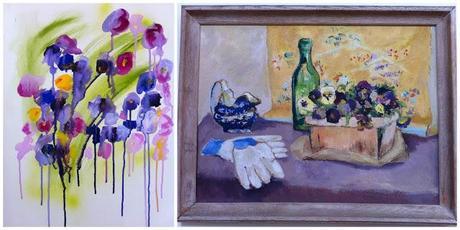 The compositions both have a bottom left to top right diagonal flow. The color palette is very similar although mine lacks the pale beige. Obviously, her painting is an impressionistic still life and mine is abstract. Also, I opted for a figure ground or and object on top of a background and
my grandmother
painted a continuous edge-to-edge picture. I loved this little surprising similarity that was totally unintentional.
On another note: Earlier this week I exceeded 100 "likes" on my
Facebook art page
and simultaneously sold my 100th painting! Interesting coincidence.
If anyone is wondering why some of these paintings that I show here are not on Etsy it is because most of them lately have been oils and the oils take a week to a month to fully dry. Several are on Saatchi online also.
Spring break starts now! Happy weekend.