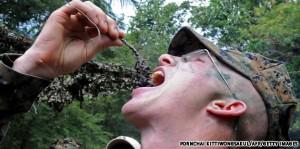 So-called "military tourism" has historically been more about nostalgia, or paying homage to the scene of some great (or monstrous) military occurrence. For decades, tourists have flocked to Normandy Beach or Gettysburg to gain a better insight into events that shaped the world we live in today. You can even rent out a former Sri Lankan Jetliner military ship for cruises and events.
While those visits can be quite moving or exhilarating, it's generally been a fairly passive experience.
But now that's changing.
"Military tourism" is becoming much more hands on. And a little less illegal. Visitors to Southeast Asia have apparently never had too difficult a time finding a business-minded soldier who would "rent" them his rocket launcher or submachine gun so that they could experience the feel of jungle warfare. But now you don't need to circumvent the law in order to get the adrenaline rush of, say, driving a tank or pulling some G's while flying a sortie on a retired military jet.
The Thai army has a tourism program that offers military adventures at 60 military bases in the country. The concept is fairly straightforward – participants get a boot camp-style experience while learning how to fire an M16, parachute from a plane or, yes, drive a tank. And to keep you healthy, some programs even provide a crash course on which insects it's okay to eat if you're stuck in the wild.
The cash-strapped Ukrainian military launched a similar program several years ago in conjunction with Ukraine's Ministry of Defence. Officials basically decided to let you drive, fly or shoot anything you wanted if you were willing to pony up the cash. You can fly a Mig-29 fighter jet for an hour for $8500. A more modest – and less expensive – adventure is to drive a tank three-and-a-half miles for $400 (such a deal!).
You might think that, in a post – 9/11 world, security concerns would preclude these programs from continuing, but there haven't been any reported issues to date, and it looks like they're here to stay. And what better way to satisfy your need for speed than by doing your Top Gun impersonation?