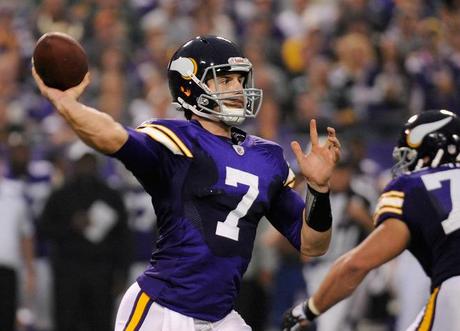 In what has become a lost season in Minnesota, the Vikings may have just discovered they have a franchise quarterback on their hands in Christian Ponder.
They are now 1-6, having lost to undefeated Green Bay in Minneapolis today, 33-27. They trail the third place Chicago Bears by three games. They seem a shoo-in to drop at least 10 games.
But Ponder showed me something today. He made his first ever NFL start against the defending Super Bowl champions and nearly led them to an improbable comeback win. (Why did Leslie Frazier order a punt with 2 1/2 minutes to play?)
The Vikings led 17-13 at halftime, but you knew that wouldn't last. Green Bay scored 20 points in the third quarter, and it looked like the rout was on. But the Vikings showed life, and Ponder his Michael Jenkins with a 24-yard TD to cut the lead to six. Ponder also threw a 72-yard pass to Jenkins to open the game, and Jenkins was ruled down at the one yard line. He hit Visanthe Shiancoe with his first TD two plays later.
Ponder's numbers may not be world-beating: 13-for-32, 219 yards, with 2 TD and 2 interceptions. But his poise and mobility have been impressive, along with a strong and accurate arm.
Granted, he's only started one game, but Ponder shows lots of promise. It's a lost season in Minnesota, but the future may have been on hand for all to see.