"Come and see our new home on Android". The news came yesterday, Facebook has invited the press to an event on April 4 to find out about the new home of Facebook on Android.
A theme somewhat mysterious but simulates the famous rumors of a Facebook smartphone.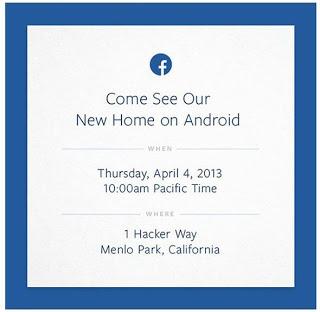 Last year already, there has been talks of  Facebook developing its own smartphone, an idea that has always been rejected by the most popular social network in the world.
Some
HTC

smartphones had a previous collaboration experience with Facebook, like ChaCha and Salsa, who tried take advantage of a better integration by dedicating a new button.
HTC and a revamped OS menu! 
The Taiwanese manufacturer has once again in the highlights (and I know this because it isn't very often that the latest five posts on your blog are labeled HTC) and should take care of the hardware part.
UnwiredView evoked early this March a smartphone with a dual-core processor at 1.5 GHz, a 4.3-inch 720p screen, 1GB of RAM, 16GB of non-expandable, a 5 Megapixel camera on the back and 1
, 6 megapixels for the front. 
The software is Android Jelly Bean
4.1.2

  but according to TechCrunch, the latter embark an "overlay" in the image of "Sense" on the HTC smartphones running under Android.
Finally, if one believes 9to5google a Facebook
/ HTC

ad campaign is ready in California.
A modified version which would put the social network in advance, propose its own App Center and
has every interest

to capitalize on any

mobile

at any time since

the social network is

longer

available on

smartphone

than on

PC.
The application also keeps Messenger to enrich new coming today compete SMS and calls with VoIP.
Finally remember this tweet from Bloomberg from the summer of 2012, that mid-2013 will output a
Facebook

smartphone in partnership with HTC. 
Hard to believe today, it is a mere rumor!