Today on the blog a very brave mother describes her experience when men armed with a machete burst into her home.
This is an anonymous guest blog.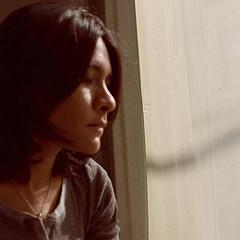 Image by meeralee via Flickr
October the 22nd 2009, 10.05 am,worse day of my life! Me and my daughter aged 1 at the time, woke up around 9 ish and was going 2 go about our day the useual way,it got 2 about 10oclock and I was just about 2 get our laundry ready 2 take to the lauderettes as we lived in a flat above a takeaway so there wasn't any mains for a washing machine . Anyway my daughter was watching Cbeebees.
We had a extra TV in our living room and a camera at the door as we had no windows in the front room or no way of seeing who was at the door so seeing the door on the TV made me feel better.  It came to about just gone 10 and I heard really loud banging and my dogs where barking, I thought maybe the roads where being dug up until I looked on the camera and was it complete panic to what I was seeing.
There was 3 black boys(men) kicking my door down, with 30seconds of seeing this I grabbed my daughter and ran into my bedroom and closed the door after me (the door was a glass door).  I screamed at my partner that someone was kicking the door down, he jumped out of bed with nothing but his boxers on and opened the bedroom door.  By this time they where at the top of the stairs jumping over my stair gate.
One was coming straight towards the bedroom, my partner ran straight towards the bedroom window and was shouting for help, the lad was coming towards him.
I was standing their with my  crying daughter in my arms shouting no please don't,  please don't.
I was petrified and couldn't believe what was happening.
Another man came into the bedroom waving a machete around, my partner was now on the outside of the window as they where trying to grab him.  He tried to place his feet on the fence just below but missed and fell to the fall.  He had  tried to land on his bare feet but just collapsed to the floor.
I was left in the with our daughter screaming ,they looked at me told me to shut the f**k up and left the bedroom.
I could hear the 3rd man in the bedroom saying get his chain get the gold chain bruv!!
I stood their squeezing my daughter till I couldn't hear nothing but screeching tyres.
I put my daughter in her cot and ran to the window to see where my fella had gone,  he basically jumped out the window and landed on his bare feet he shattered his heel n broke his other foot he couldn't move from where he was.  He said he tried to stand up but flopped back down, so he army crawled over the road to get help.  I was shouting for him out the window. I could hear him calling back.
Was he OK? Had they found him n hurt him?
He had dragged himself to his mates, I heard his phone ringing in the bed, I picked it up called the police.  I was saying to them hurry hurry please hurry . Do you know what they said? Stop telling me to hurry up!
I was scared someone was still in the house! I then rang his mom she came right round I didn't move from the spot till she came. My fella got taken away in ambulance,  police and forensics  was everywhere.  My daughter was so scared she didn't leave my side for months and didn't trust anyone.  It made her so ill she wouldn't eat sleep or drink and was vomiting the whole time.
The sick people who did this got away.  They took  our £700 laptop,  my daughters bracelet,  driving license and my charm bracelet.
Sick people… My partner spent a moth in hospital and  altogether has had 6 operations.
They have never been caught.
We have now moved away because of the attack, having to leave friends and family behind.