I wrote a blog post yesterday titled boys should not play with dolls and I spoke about an issue that many parents face, when one parent has strong views regarding a certain area of parenting and the other parent disagrees.
My husband does not want his son pushing a doll and a pram when we go out for a walk, I don't seem the harm, but because I understand and value his views we sit down like we always when we disagree about raising the children and try to compromise.
I accept my husband's reasons and it goes back to his own upbringing and childhood. Who I am to overrule his choices? Am I always right? Do I have the right to say he must go against his own beliefs? No of course not.
My husband and I are very close and we have had to learn to be open and honest about our feelings, caring for someone with bipolar is difficult and he has proved a thousand times over what a fantastic father he is to our children.  He does not always agree with me yet he accepts my views and we compromise. We respect each other which I feel is much more important when raising happy and stable children than it is to let a boy play with a doll.
I was rather upset to see a mother taking this a little too far;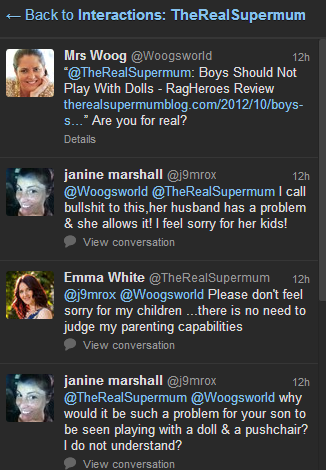 Yet again another mom far too quick to judge another – " I feel sorry for her kids" ? Why would you feel sorry for my children because my son does not carry a doll into town with him?
My little girl is 4 and loves her doll and pram and still she does not take her pram into town with us, purely because it would take us hours to get there and back.
Please do not judge my parenting skills based upon a strong view of my husbands, I respect his views. He does not have a problem at all, he as anyone does deserves to have his own choices in raising his children respected and not judged, despite if you agree or not.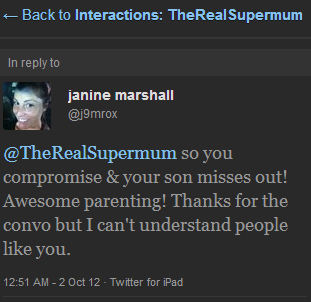 I also do not feel that my son misses out on anything. all because he is not too push a pram into town?
I also have not asked anyone to understand me yet do not feel I should be judged based upon my little boys pushing a pushchair.
I will await your own opinions on this matter…