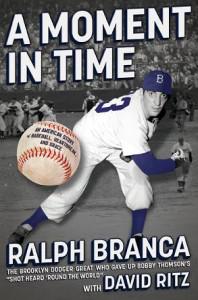 Like Bill Buckner and Mickey Owen, Brooklyn Dodgers' pitcher Ralph Branca is remembered for only one moment in his distinguished career: a home run to Bobby Thomson that gave the Giants the 1951 National League pennant.
Branca is now 85-years-old and has released a book on his life, co-written with David Ritz called "A Moment In Time: An American Story of Baseball, Heartbreak and Grace."
If you know anyone who was a Brooklyn Dodgers fan in the 1940s and '50s, definitely recommend this book to them (and I know plenty).
Branca talks of his life coming from a large Italian-American family in Mt. Vernon, NY and he grew up a New York Giants fan. He's a man of great faith in himself, his family, his country and God. But of course, the book is centered around that October day in 1951, when Branca's name became a household word, and all the trouble it caused him down the years.
But he goes into great detail about how the pennant was actually robbed from the Dodgers, as the Giants instituted a sign-stealing method at the Polo Grounds using binoculars and a buzzer system (which was first brought to the public's attention in Josh Prager's 2006 book "The Echoing Green"). Branca tells of learning the scheme from his Detroit Tigers teammate Ted Gray in 1954. And for over five decades, Branca kept the secret to himself, as he didn't want to come off as some sore loser. But now Ralph tells the world what he knew back then, and you can tell what a cathartic thing it is for him.
He also tells of the friendship he forged with Bobby Thomson in the years following the home run. He talks of what a good man he was, but Branca is clearly disappointed that right up to his death in 2010, Thomson never admitted to any wrongdoing regarding the Giants cheating scandal.
Branca also goes into his relationships with his Dodger teammates, like his close friendships with Gil Hodges and Jackie Robinson, and his distaste for his managers, and even defends Walter O'Malley's moving the Dodgers to California (that won't make my dad happy).
"A Moment In Time" is an enjoyable read from an old timer whose love of baseball has never dimmed down the years. Ralph Branca was a very good pitcher, and clearly a man who should never have been defined by just one play in his career.
I think Bill Buckner can agree with that.