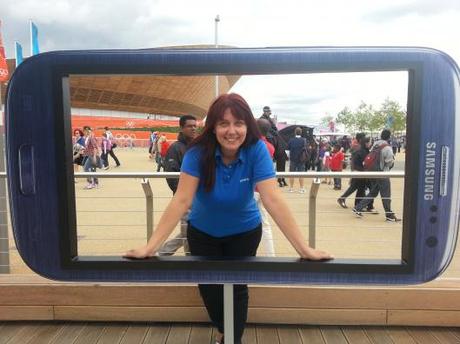 I have been a Samsung Mob!ler for 10 months now and when I entered a Samsung competition on Facebook on 15th October 2011 to win a Galaxy SII, because my phone was broken and I could not afford buying a new one, I couldn't even imagine what I had got myself into.
I remember feeling totally disappointed when I found out that I was not one of the top three winners to get a Galaxy SII until I got an email from the advertising agency representing Samsung Hellas that I was chosen to be a Samsung Mob!ler and that I would be given a Galaxy Note to promote my way in Social Media and keep it if I did well enough.
Honestly talking, back then I was only interested in the phone but the moment I was given my first mission I started seeing things totally different.
I can still recall the moment Cao, the head of the Mob!lers programme around the world, telling on her speech when we first met at the Samsung Hellas offices that as Mob!lers we are now part of the Samsung Family.  Back then I thought those were just words that had to be uttered as part of their Public Relations only to realise soon that what she had said was true.
A Mob!ler is treated by Samsung HQ as a Very Important Person and our opinions and views do count for them.  Isn't it amazing that one of the leading companies in the mobile industry takes into consideration what a teacher from Greece has to say about its products?
That's exactly what Samsung has actually achieved through the Mob!lers programme, listening to the voice of common people like me from all over the world and using the knowledge it gains from them to bring its products closer to the needs of the general public.
There is some kind of magic knowing that you as an individual are also a little responsible for a fraction of the sales and the prosperity of such a big company.  There are times when I stand in awe knowing that Samsung has trusted me to promote their flagship product in my own personal way without limiting me or imposing me any kind of censorship.  I can still remember myself posting material such as "I only go to bed wearing my Galaxy Note" and "Who needs a man?  Galaxy Note is big enough to satisfy any woman." (pretty stupid but they sounded good at the time).
I was impressed to discover I could produce videos (I had never ever shot a video before becoming a Mob!ler) very immature and raw in the beginning a bit better (hopefully) now.  Then just after a few weeks I was asked to attend the Mob!lers Day in Seoul, Korea which I unfortunately didn't as I couldn't meet any possible expenses at that period and later on I remember myself raising money (just 175 euro but enough for me) when I was chosen to attend and work at the MWC 2012 in Barcelona a congress I had never heard of before and practically knew almost nothing about until I got there.
I arrived in Barcelona a bit scared of all the 'geeks' (other Mob!lers from around the world)  I would have to work with as I was totally technology illiterate compared to them, let's not forget I was only a teacher who needed a new phone, and was totally taken by surprise to get there and feel on the spot as if I had known them forever.
I can still remember my fear as the first person approached me at the congress to ask me about the Galaxy Note 10.1.  I was in such awe of being there for Samsung that I was afraid I would make terrible mistakes and humiliate the company for their choice of promoters! Fortunately, all four days ran smoothly and by the end of my shift I just wanted to go on and on promoting that fabulous Tab (by the way I can't wait to get my hands back on it and start writing about it).
When I got back to Athens I had made a bunch of wonderful friends around the world that I terribly missed and couldn't wait to meet again on another international event.
And then came the announcement that I was chosen to fly all the way to London for three weeks during the Olympic Games and my excitement was so great I could not concentrate on anything else!
The three weeks in London were an experience of a lifetime!  A trip I will always remember and cherish as I did not only get the chance to be in London in one of its gloriest moments in modern history but also spend three weeks with some fabulous people called Mob!lers along with new beautiful people I met there from all over the world!  And believe me being at such an important event with one of the biggest Worldwide Partners is an amazing experience on its own!
Thanks to the Mob!lers programme, when I look at the map I do not see countries, I see smiling faces, Aimmee from Thailand,  Alan, Dom, Stacey, Emma and Kin from the UK, France from France, Mihai, Silviu and Victoria from Romania, Johannes, Mohamed, Bjarne, Christian, Summer, Stef and Martin from Germany, Bernardo and David from Colombia, Joel, Maikel, Logan and Karen from Canada, Lidya, Peter and Donuts from Hungary, Ossama, Huzeifa and Minhaz from the UAE, Onur and Gur from Turkey, In, Mike, Cao, Jay, Chris, E J (Yapuda) and Sunghee from Korea, Haisu from China, Bryan from Malaysia, Ilia from Russia.
You want to know what a Mob!ler is?  A Mob!ler is somebody who has friends all over the world that they did not know they existed until they meet.  People like you and me who share their passion for innovation and Samsung products.  People who thanks to Samsung are given the chance to reveal their potential and find that being a Mob!ler is hard work but the magic of it is that you are given the opportunity to practice a new 'hobby' and evolve it as much as you can. I learnt how to produce videos, have my own you tube channel now, made this blog and one more and are finding my way in Social Media and page administration as part of this evolution.
When the recession started in my country, the first thing I missed was not being able to travel and meet new people and cultures.  All I know is that if it weren't for Samsung I wouldn't have travelled twice in the past ten months and made so many wonderful friends.
If you plan on applying to become a Mob!ler in your country, do not go after an opportunity to make money.  You will find on the way things that all the money in the world cannot buy and that's exactly what being a Mob!ler is!  Excitement, Friendship, Passion for Innovative Products, Personal Evolution and a feeling of satisfaction for being part of a worldwide Family.