When do you KNOW it's the right time to renovate your space?
In the case of my "Beach" client, that realization came only after she ordered new sliding mahogany doors and interior storage systems for her existing
"his and hers" master bath closets.  While she originally felt those new doors and the custom shelving would improve the overall function and design of her bathroom space – she and her partner quickly realized that wasn't the case!
You see, before the closet interiors were to be installed  – she would need to replace the old linoleum floor – which then led her to the idea of an up to date vanity which then led her to wanting new and improved lighting – at which point she finally realized that a new Master Bath design plan was critical!
Their dark, dingy, dated and very confined master bath was just begging to be gutted!  The mirrored image floor plan consisted of a long and narrow shower, two very small vanities, dark toilet cubicles, limited storage and an overall a lack of space.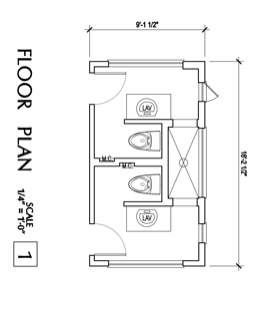 Before Floor Plan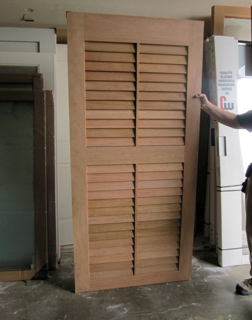 The catalyst that started it all. New mahogany closet doors.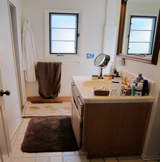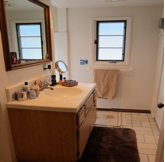 Before: Her Side   Before His Side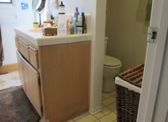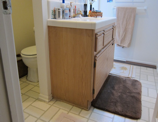 Before: Her Side   Before His Side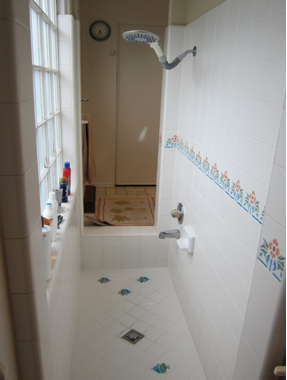 Before His/Her Shower Looking toward "His" closet
As designers we know how essential it is to fully grasp the true essence of a client's personality and lifestyle – in order to deliver a final product that not only meets their needs but exceed them.
A philanthropic, globe trotting, extreme sport enthusiast, this MD feels most comfortable in and surrounded by nature.  So with that said, we will provide her with a unique nature-inspired bath retreat where we will incorporate the materials she loves…. natural woods, stones, rocks and plants which speaks to her personality and lifestyle.
So stay tuned and follow this unique master bathroom renovation – inspired by nature.
Stay Inspired!

I encourage you leave questions or comments below this post, and fill out the form on the right hand side of this page to receive your free copy of my special report: "15 Money Saving Strategies When Planning Your Home Renovation"