While nothing beats a leisurely stroll around one of the country's many farmers' markets, sometimes there isn't an open one handy when we need one. Until now.
This month eFarmersMarket was launched – an online Australian marketplace sourcing the best locally produced artisan food products and delivering them straight to your doorstep.
They have a range of 750 all-Australian products which founder Carla Penn has personally chosen. They range from an antipasto range through to chocolates and sweets and include a section of organic and gluten-free products. eFarmersMarket tries to source all natural products with no added colourings, preservatives or flavour enhancers.
I've tried a small tasting box that included a selection of products available on the website. I had to take a quick photo of the goods before the family started helping themselves.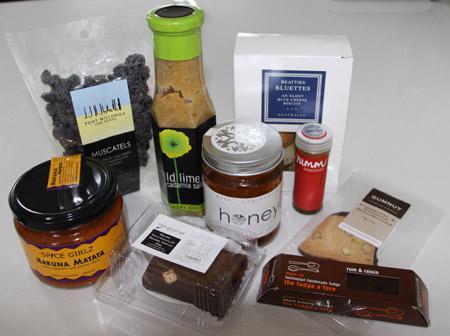 Just a few of the products on sale at eFarmersMarket
Belgian triple chocolate brownie, wild lime macadamia satay sauce, blue cheese biscuits, unprocessed honey, handmade rum and raisin fudge, pistachio and almond shortbread, salad dressing, spicy eggplant and tomato salsa, vine-dried muscatels – all beautifully packaged and delicious and all made in small batches by artisan producers.
The website features meal boxes which come with a recipe cards, eFarmersMarket products and a shopping list for additional ingredients such as meat and staples.
Fresh produce will be introduced in coming months.
"Our fresh produce will be delivered to your door by local small family businesses in your area, so it's just another way we are supporting Aussies," says Carla.
There are also pre-made gift boxes or customers can create their own gift hampers. All orders come with a flat delivery charge of $13 anywhere in Australia.
What is particularly good about this website is being able to click through to each producer's "shop" and learn about the people behind the products.