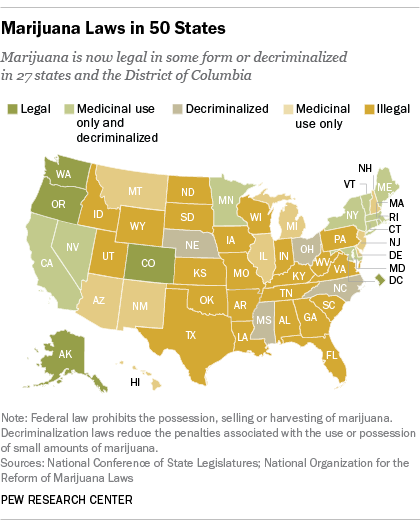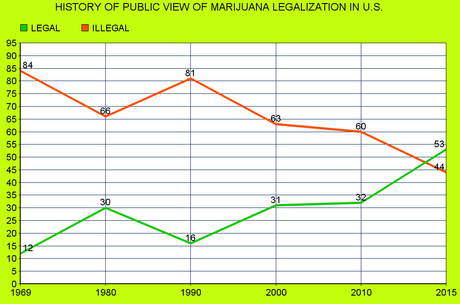 The use of marijuana for recreational purposes is legal in only four states so far (Colorado, Washington, Oregon, and Alaska). Several other states allow marijuana to be used for medical purposes, and some states have decriminalized the possession of small amounts (meaning the possession would result only in a misdemeanor ticket 00 much like a traffic ticket). But marijuana use and possession is still illegal for any amount or purpose in nearly half of the states.
I think that's going to change in the next few years. Note in the bottom of the two charts above that since 1990, there has been an increase in the percentage of Americans who believe marijuana should be legal, and a decrease in the number who believe it should remain illegal -- and a couple of years ago, those who think it should be legal became the majority. Currently, 53% support legalization and 44% oppose it.
There are a few reasons for this. First, people are starting to realize that the government (and those with a financial stake in the overall war on drugs) have been lying to them about marijuana. It is not the demon drug they have been told it was, but a gentle herb that is truly safer than any other drug (including any legal drug). It is not addictive, cannot be overdosed on, and does not lead to the use of other drugs
Second, people are watching what legalization has wrought in other states. Colorado is a perfect example. In Colorado, society has not fallen apart, crime has not increased, use among those under 21 has not increased, traffic accidents have not increased. In fact, the state has gone on just as it did before legalization except for one thing -- the state has reaped the benefit of millions of dollars in taxes on marijuana (both on the state and local level).
The third reason can be seen in the chart at the bottom of this post. About half of the U.S. population has tried marijuana, and anyone who's tried it knows it is a gentle and safe plant. I expect a couple more states to legalize marijuana in 2016, and hopefully, it will be legal in most states within a decade after that. It's time for that to happen.
The charts on this page were made with information in a new Pew Research Center survey -- done between March 25th and 29th of a random national sample of 1,500 adults, with a 2.9 point margin of error.