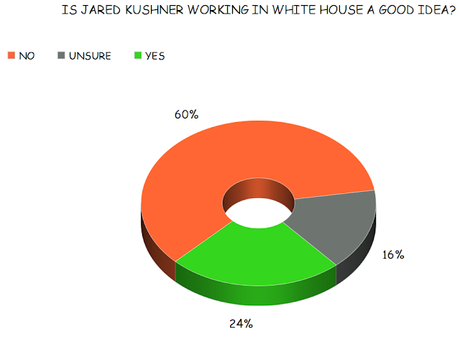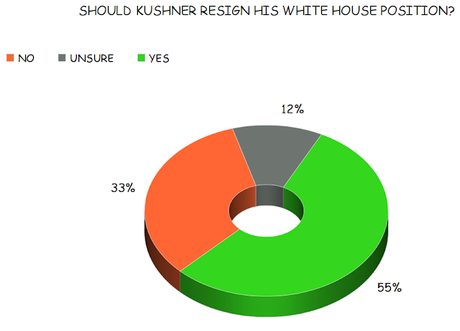 Jared Kushner (Donald Trump's son-in-law) has garnered a lot of negative publicity since becoming a White House aide. Very early in his tenure we learned his family was trying to sell White House access to Chinese investors who spent hundreds of thousands to invest in Kushner daily real estate.
Just last week, we found out that Kushner met with officials of big banks in the White House, and then those banks gave his businesses some very large loans. There is at least the perception that he is using his White House position to enrich himself (which is against federal law).
Add to this the fact that the FBI has refused to clear him for access to top secret information, and he has had his security clearance revoked. This makes it doubtful that he can now do his job at the White House. And some are saying Trump might ask him to resign soon.
That would please a majority of the American public. About 60% say him working at the White House was a bad idea. And 55% think he should now resign.
Trump is known to be a narcissist who cares only about himself. Will he toss his son-in-law under the bus to make himself look good? We may soon know the answer.
The charts above reflect results in a new Monmouth University Poll -- done between March 2nd and 5th of a random national sample of 803 adults, with a 3.5 point margin of error.