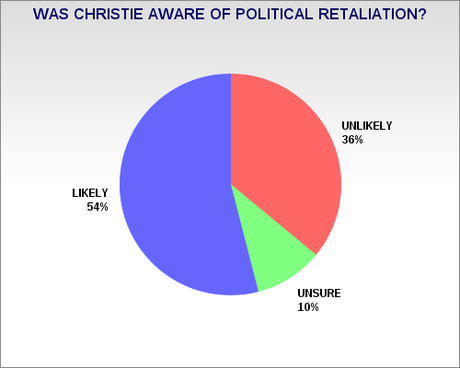 On Thursday, New Jersey Governor Chris Christie held a news conference. The purpose of that conference was to salvage his political career after it had become public knowledge that at least one member of his staff and some of his political associates had in an act of political retaliation -- closing several lanes of traffic entering the George Washington Bridge to create traffic jams and cause difficulties for the mayor of Ft. Lee, New Jersey (who had refused to endorse Christie for re-election).
Christie denied any knowledge or participation in the political retaliation, and announced that he had fired the staff member who ordered it -- his Deputy Chief Aide, Bridget Anne Kelly. But Christie may not have solved his political problems with those denials. The Rasmussen Poll surveyed 800 likely New Jersey voters after the Thursday news conference, and a majority (54%) of the poll's respondents said they believed it was likely that Christie had knowledge of the retaliation (which means they believe it is likely that he had lied in the press conference). Only 36% think it is likely that Christie was telling the truth. The survey had a margin of error of 3.5 points.
But that's not the only problem for Christie that the poll revealed. A whopping 71% think this was probably not the only political retaliation that Christie's staff had been involved in (either with or without his knowledge), while only 17% think it is unlikely. And 56% of New Jersey voters think Christie should resign if proof is found that he had knowledge of the political retaliation (to only 29% who think he should not resign).
I don't know if Christie's political ambitions will survive this scandal or not, but it is obvious that he has taken a serious political hit with this story. And it's not over yet. The press will keep digging, and there will be hearings in the New Jersey legislature. It will be interesting to see what develops -- and how it affects his presidential aspirations.