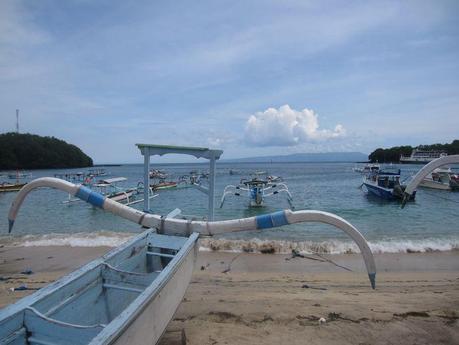 It's really not Padangbai's fault at all – more a combination of confused logistics, miscommunications, something of a lack of research and small motorbike inflicted contusions that have all contributed to make for a rather wearing last few days.
But I'm (very) happy to say that things appear to be looking up.
Padangbai is a small port town located mid-way up Bali's eastern coast, mainly used by travelers looking to dive, snorkel or catch a ferry over to Lombok, Nusa Penida or the Gili Islands. We had originally planned to stay in our house in Ubud through the end of March, but when our landlord offered us the chance to spend our last week at her property in an eco-living resort community here we jumped at the chance to see a new part of the country and spend some time on the ocean.
Tuesday morning we packed up our things, said goodbye to our Lodtunduh bungalow and headed east. Upon arriving, however, things quickly began to look iffy. The "villa" we had exchanged our previous home for was more akin to an in-law apartment, located directly above the hotel's lobby. Rather than one of the advertised idyllic homes looking out across the ocean to Nusa Penida, we had an unobstructed view of the restaurant and road. It was also a bit jarring to suddenly find ourselves in a real resort setting complete with water slide and Speedo-clad Europeans – something of a change from our much beloved quiet retreat in the rice fields. And we realized Padangbai boasted virtually nothing in the way of surfable waves. Nice. Not exactly what we might have imagined.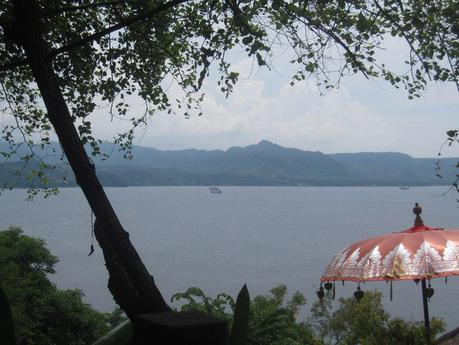 Over the next 48 hours, we proceeded to move villas a whopping FOUR times. We asked if we could stay elsewhere, would move, then several hours be told the place was actually booked, or realize the water was broken, or be informed that we actually were only allowed to stay in our original spot. Finally, we got through to our landlord (who actually lives in California) and were able to clear up the miscommunication, and somehow completely miraculously were quickly (and hopefully permanently!) transferred to a truly gorgeous home on the edge of the property – open air, looking straight out over the ocean, private, and blessedly far-removed from the aforementioned water slide.    
So, long story short, we went from forlornly staring out over a road and wondering why exactly we'd chosen to spend one of our last weeks in Bali in a glorified city apartment, to feeling back a part of nature and the Bali we adore. We also realized that while resorts are definitely not our thing, the (complimentary) breakfast here is pretty delicious. And that we can drive to surfing not too far away. And that while Padangbai doesn't boast a whole lot to do, there are some funky cafes and great personalities, and the slow pace here is a nice change from the tourist centers of Ubud and the southern coast.
Ignoring the fact that yesterday my left foot was tragically squished between our motorbike and a wooden pole and is now looking a pale shade of navy – all seems to have improved.
Padangbai, we're sorry we doubted you. Despite a bit of a rough start, we're looking forward to a quiet but lovely week of coastal exploring, writing, snorkelling and travel planning. 
(Please don't worry about the foot. Really. It seems to be healing up quite well. Ah, travel.)