Hi everyone,
I stumbled across this very interesting video by Cut on YouTube, showcasing the top beauty looks for each decade, since the 1910's!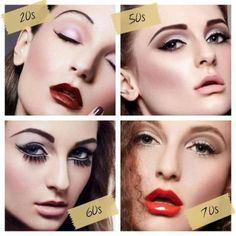 Source: Pinterest
I loved seeing how each decade's looks evolved and in some circumstances, even change quite drastically. There also seems to be a cycle element to it, with looks coming back into fashion decades after it first appeared.
I've attached the video below for you to take a look back at the hair and makeup trends of the last 100 years!
What type of hair and makeup look do you envision as a trend for the next decade?


| Bloglovin' | Facebook | Twitter | Instagram |