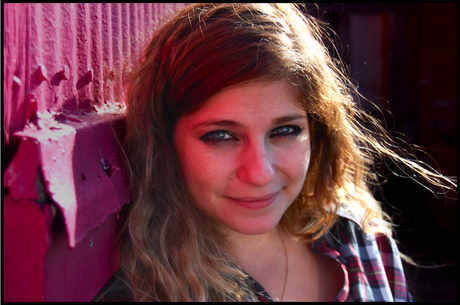 Alex Roberts is a graphic designer living in Austin, Texas. In addition to graphic design, she draws with charcoal and pencil, specializing in surreal portraits.

I don't remember the first time I met Alex, though I suspect it involved calculator games, Sour Straws, and carefully selecting outfits for Steven Bluestein's Bar Mitzvah. I do remember all the subsequent afternoons doing homework in her bedroom (She did my math, I did her English.), instant messaging boys we didn't have the guts to talk to at lunch, and drawing castles and Timothy Leary quotes on her carpet with magic marker. Her childhood bedroom, where we met for this shoot, was the setting of so many high school dramas and awkward middle school moments that became the foundation of our adult friendship. It's always fun to revisit that room, to acknowledge how much and how little has changed. We still talked outfits, dressing her in stripes and checks for the shoot. We still talked boys. Now, I hope, with a little more wisdom and self-assurance. And we still sat around the kitchen island eating food from her parents' pantry and gossiping about old friends; old times; the ways in which we hadn't, but still hoped to change. We also talked giant, unexpected life leaps: my move to New York City, her freelance graphic design business, the 1,700 miles between us when I used to live just down the street. And then, after all the catching up, we  talked John Irving, Alex's favorite author for as long as I can remember. Here she is – her tousled, two-toned hair and anime eyes – discussing In One Person with that signature squeak that makes every word vibrate with sincerity.
What are you reading right now?
In One Person, John Irving's latest. I'm a big fan of his writing.
What do you love about it? 

It's quirky. It makes me laugh out loud and it's well written. True to form, the characters are clever and a bit outrageous.
Do you have a favorite Irving character?
I wouldn't say a favorite, but I think of some on occasion and they always make me laugh. Like the Ellen Jamesians in The World According to Garp; they're funny in a dark way. If you're not familiar, a young girl called Ellen James is raped. Her rapist cuts out her tongue to prevent her from talking. In protest, a group of radical feminists cut out their own tongues and refer to themselves as Ellen Jamesians. I don't think he's mocking feminism as much as extremism and pointless ideology.
Can you share a favorite quote from In One Person?
Hmm, when I first started reading Irving as a teenager there were tons of quotes that struck me – well, shocked me – because he's so sexually explicit. I definitely remember reading The World According to Garp like 10 years ago. I was maybe 16, and there were parts of the book that made me so uncomfortable I'd slam it shut, look around wide-eyed and probably blushing. It would take a few seconds to overcome my embarrassment and continue reading.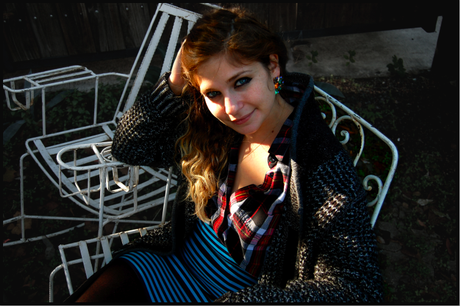 How does In One Person compare to other books you've read by Irving? 
I just started, so I haven't formed a full opinion yet. It is typical Irving, introducing a lot of the same topics and themes. His characters tend to challenge what we consider traditional gender characteristics and a lot of his characters are pretty androgynous, which is definitely a theme in Until I Find You. This is also the second Irving book I've read with a transgender main character.
Is what your reading now pretty representative of your bookshelf at large? 

Definitely. I like contemporary satire. I've read some of the stories in The Insanity Defense a dozen times. Typical Woody Allen; I love it. I like this style of writing because I'm so into comparing real world characters to the flagrant, fictional characters I read about. For instance, this overweight, middle-aged, sweaty guy that nearly totaled my car a few months back was totally Ignacious from A Confedaracy of Dunces. After causing thousands of dollars in damages and seriously f***ing up my neck, he screamed profanities and proceeded to blame his mother. Classic Ignacious! And then…he offered me pizza and chugged a liter of Mountain Dew!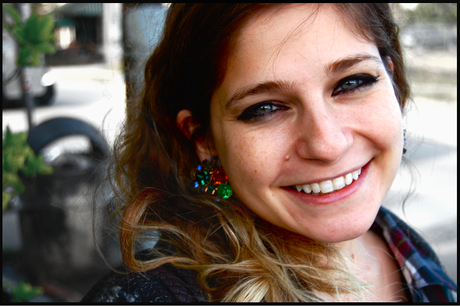 What other books by Irving are on your bookshelf?
The World According to Garp, A Prayer for Owen Meany, Until I Find You, and Hotel New Hampshire. The latter one I never finished. No matter how much you like an author, sometimes their work just doesn't resonate. Not that I disliked it, I just wasn't as consumed by it as the others. Maybe after this book I'll try again.
I love the shoes and magazines you included in the logo. What miscellaneous objects might we find on your bookshelf?
I keep a framed photo of myself atop my oldest brothers shoulders. It was taken during his punk rock phase, back when I was a kid and he was a teenager. It's hilarious! Now the boy won't leave the house without a custom tailored Etro top, fitted slacks, and freshly shined shoes. But in this photo, he's got on a cut-off punk tee, patched up pants, spiked bracelets, and dreads wrapped up in a bandana. Of course, his best accessory is the little cutie – ME! – on his shoulders.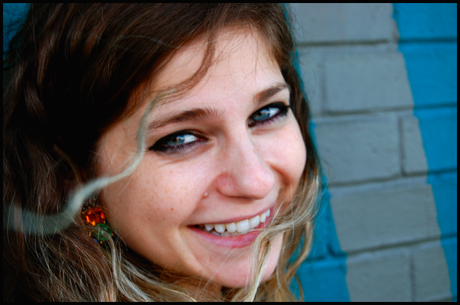 What's your favorite genre? Any guilty pleasures? 
Haha, yes! My boyfriend would say all the fashion blogs I read. Whatever, I'm proud of those.
I've always liked fantasy. In high school I read every Harry Potter book - the third and last one multiple times. I got really into A Game of Thrones last year and The Hobbit, too. 
Probably my number one dorkiest, top-secret (I guess not so much anymore!) guilty pleasure is that I read children's books. Out loud. With voices and sound effects. I really like this book about pirate dinosaurs and, of course, anything Dr. Seuss. Oh, and I love those dark short stories by Tim Burton. Every time I read one out loud for someone, I act like it's my first time and just act spontaneously silly. I guess the cat's out of the bag!
Tell us about the logo and your creative process? 
With a logo, I try to create something both germane and stylish. I consider the audience and what the client's selling them. I use mainly hand drawing and Adobe Illustrator for logos, but for other projects Photoshop and InDesign are necessary. Duh!  For the shoes, I drew inspiration from some Jimmy Choos I've been drooling over (found in the below photo). The books and magazines definitely resemble my personal bookshelf. Several people called me out on that!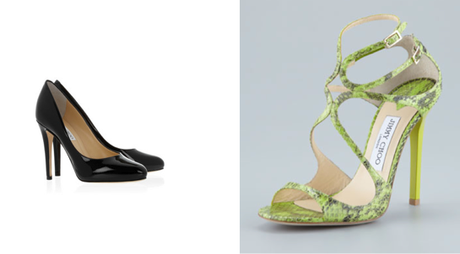 Are there any great graphic novels or graphic design books you can recommend?
I've got nothin'. I mean, I've read books on color and design that were required in school. Some graphic designers would swear by them I'm sure, but I'm mainly inspired by fashion catalogs and logos. Honestly though, all forms of art can transcend their specific genre and just stir the creative juices.
Are there any images in particular – logos, painting, cartoons – that have influenced your aesthetic?
Yves Saint Laurent made a HUGE mistake changing their logo! I don't even WEAR lipstick, but I tried because I was so enticed by the case.
Alice and Olivia's campaigning is so freakin' rad — not just the typography, but their entire ambiance.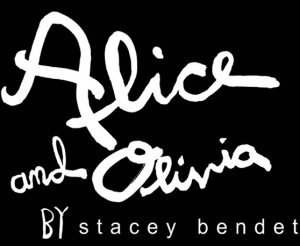 Chanel's intersecting "c" and "c" logo oozes elegance.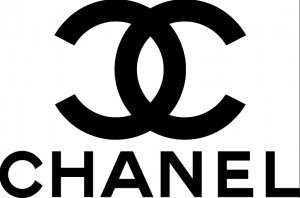 Masland, a high-end flooring company that I've promoted, has a super slick logo that I've drawn inspiration from.
As far as paintings and drawings go, I've noticed I prefer mixed media. It encourages me to think outside the box.
Does what you're reading inform your work as a designer?
Definitely. I'm privileged to create a lot of the graphic designs for this amazing interior décor boutique in Houston. I rummage through local furniture and décor magazines to get inspired. I also stay up to date on the colors and styles showcased in the catalogs and magazines they display at the store.
Honestly, the reading that I find most inspirational for my line of work? Blogs. They're constantly updated, personable, and just so real. Maybe that sounds cheesy or cliché, but I just don't know how else to say it.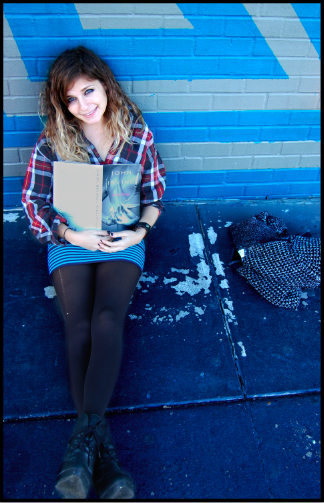 Skirt, Pleasure Doing Business; Shirt, vintage; Shoes, Michael Kors; Earrings, Oscar de la Renta; Sweater, Rag & Bone for Target.